Granite composite sinks are the current trend in the kitchen sink. There are several reasons for this current trend. Chief among these reasons is the sturdy nature of this kitchen component.
Granite composite sink made from quartz sand is the paragon of durability. They also blend with the kitchen design, improving the general outlook of the kitchen.
You can order a customized version of this sink from the manufacturers or suppliers. This means you get a sink that suits you and your kitchen style.
Buying a quality Granite Composite sink is easy as well as tricky. The reason is most granite sinks share similar qualities. There are subtle differences between each one of them.
These variations differentiate a high-quality, durable sink and a sub-standard sink.
Why do we end up with the wrong sinks?
This article would enlighten you on the intricacies of granite composite sinks. It would also help to improve your decision making as regards buying a sink. Below are the mistakes you could make when buying granite composite sinks.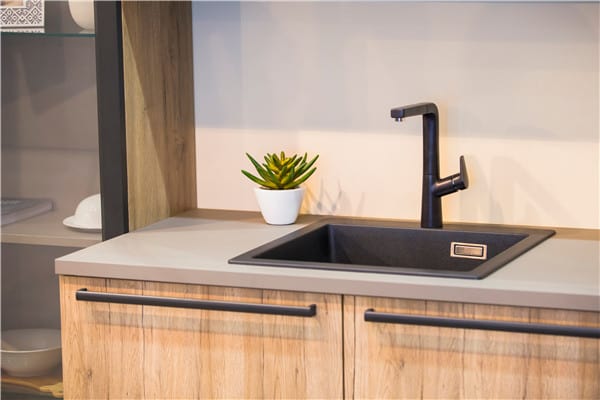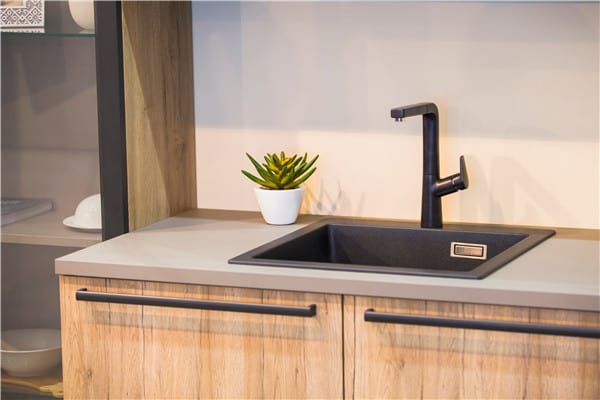 1. Inability to Discern the Raw Materials
The difference between the granite sink and granite composite sink is the component material. The granite sink contains only natural stone. Granite composite sink contains quartz sand and acrylic. Here are some tips to help you recognizing premium granite composite sinks.
Proportion of Raw Materials
Knowing the quantities of granite and acrylic in a kitchen sink is important. In general, granite composite sinks should contain at least 75% quartz sand.
A sink with less than 70% quartz sand is either a resin sink or a solid surface sink. These sinks are of inferior quality and much cheaper than granite composite sinks.
Purchase Granite composite sink with 80:20 quartz sand to acrylic proportion. They are top-notch. Quartz sand sinks are the most durable.
Level of Heat Resistance
The kitchen is a hot spot in the home. The ability to resist heat is a quality that granite composite sinks have.
The quality of the sink determines how much heat it can resist. Granite composite sinks are heat-resistant up to 200 ℃. As a buyer, it is your right to request a heat-resistance test on the material of a sink you want to buy.
You can also request the results obtained from raw material inspection. A standard regulatory body carries out this inspection and issues the results.
Avoid discolored sinks. The discoloration is due to the denaturing of non-heat resistant raw materials.
2. Neglect the Density of the Sink
Maybe you will consider some factors such as hardness, the percentage of granite particles, whether the materials are food-grade, etc. Actually, there is a vital factor that affects the quality o a granite composite sink-the density.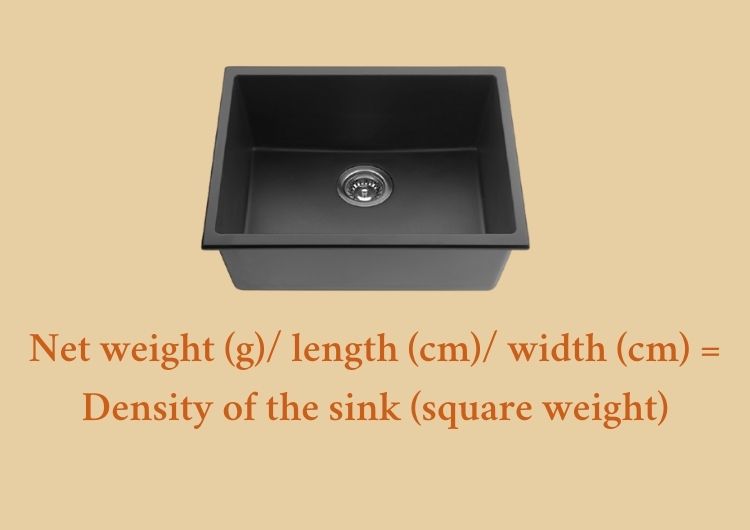 We can calculate the density using a simple formula and then judge the sink's quality. I had written an article in detail on how to calculate the density. The high-density typically represents the good manufacturing process for a sink. Many people didn't realize this important factor because some exaggerated manufacturers easily mislead them.
3. Failure to examine details of sink design
The failure of buyers to examine the design of a sink they want to get results in a wrong buy. The elements of a sink design you need to consider include;
Position of the drain hole
Generally speaking, there are two positions of drain holes. A sink with a center drain hole has a reduced sink space. The space in this sink is equal on all sides.
A sink with a drain hole at the back drains better and affords you more space on the sink. Back–drain-hole makes pipe installation easier.
Design of sink edge
A thick edge reduces sink space and while making the sink obvious in the kitchen. Granite composite sink edges should be light and thin.
This ensures you have the most space for washing. A thin-edged sink is easy on the eye and blends with the kitchen design.
4. Neglect the Quality of Sink Accessories
Sink accessories make the granite composite sink both aesthetic and functional. The accessories include; drain, strainers, and soap dispensers,etc.
Neglecting the quality level of a sink accessory could result in changing accessories often. Using inferior quality strainers and drainers could shorten the lifespan of your sink. Things to look out for in a sink accessory;
A kitchen sink should be able to drain water effectively. The design and quality of the drainers and strainers affect the use of the sink.
S-shape design helps prevent waste blockage and water leakage. A quality drainer and strainer should have;
· Steel ball positioning
· Extrusion sealing
· Taiwan-style controlled dewatering with strong sealing
· Drainers should have an odor proof design.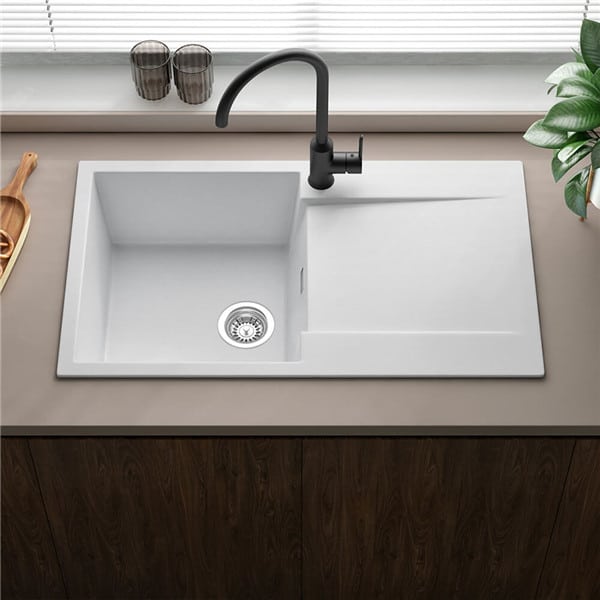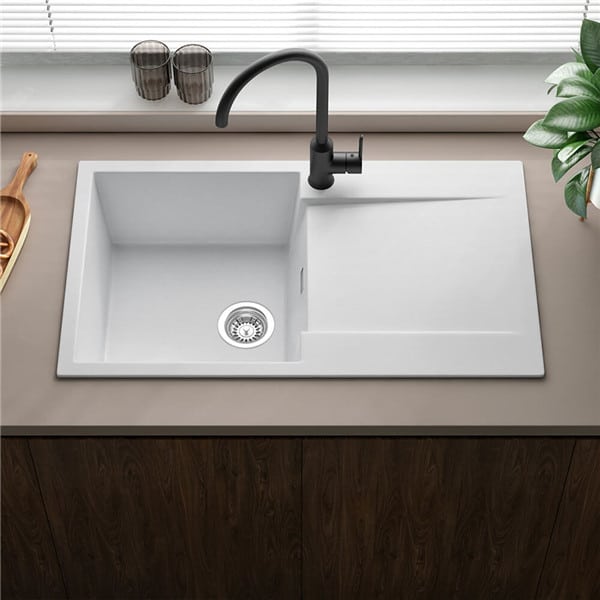 5. Improper Packaging
The packaging is an important aspect of buying this kitchenware. If the packaging is inappropriate, the granite composite sink could crack during transportation.
So many products crack on transit because of poor packaging. To ensure your products get to you in optimal condition, package them well. The best way to package a granite composite sink is to ensure it does not encounter any hard surface.
A hard surface could be the body of the vehicle or another sink. For safe packaging, use a honeycomb type carton with thick polystyrene foam. This protects the sink from damage.
6. Buying from the wrong place
So many countries produce a Granite composite sink. These countries include; Germany, Italy, China, and India. China is the leading producer and supplier of high-quality granite composite sink. Buying from China is a smart choice.
Why should you buy from china?
Cheap raw materials
China has plenty of quartz and acrylic to produce granite composite sink. This makes these materials cheaper to get. When raw materials for production are cheap, the cost of production is less.
Cheap Labor
Labor is cheaper in China when compared to other producing countries. Unskilled and skilled labor is available in China. This is because it has a large population of working-class citizens.
Manufacturers like Chica Dragon adopt German advanced equipment and technology for production. This ensures they produce top-quality granite composite sinks.
High-profit margin
Production is cheap. This means your profit margin from the sale of granite composite sinks is higher.
Perfect supply chain
Granite composite sink manufacturers in China have an established supply chain already. This is because they supply their products to so many countries. They have a perfect supply chain which ensures the delivery of your order is timely.
There are many manufacturers and suppliers of granite composite sink in China. This means there are different levels of quality on display. Here are a few tips on how to import granite composite sinks from China.
7. No Full Inspection Before Shipping
Another mistake buyers make is not inspecting the sink before shipment. Most processes in the production of this kitchenware are not automatic. This could result in some discrepancies in the finished goods.
The manufacturers inspect the products during and after production. The only challenge here is that they do this with naked eyes. Due to this, they might end up not noticing some mistakes in the product.
Suggest you contract an inspection team before shipping out the sinks. This third-party team would inspect the product with unbiased eyes. They will help spot any discrepancies or inadequacies in production.
8. Not Choosing the Right Style For the Market
People have different choices and ideas when it comes to how a kitchen sink should look like. This also applies to countries and different markets.
Americans do not like sinks with drainboards. They prefer attaching the bottom grid accessory with the kitchen sink. But these bottom grids help to protect the sink. You can also use it as a strainer.
They also prefer simple single-bowl or double-bowl sinks. A 17-inches bar sink is ideal for the American market, as well as a 30 and 33-inches large bowl kitchen sink.
In Europe, Middle East, Australia, and Asia, the market demands are different. Unlike the American market, granite composite sinks with drainboards are the trend.
The individuals in this market do not like the extra cost attached to bottom grids. In Europe, a single bowl with a drainboard or small size double bowl is the current trend. It is a unique European style.
As regards surface finishing, Americans prefer a rough finish. A sandy look with a strong stone-like feeling is ideal for the American market. But European and Australian markets prefer a smooth finish.
Knowing the market trends in the region you intend to supply to is smart business. This ensures you have a high rate of turn over.
You do not want your products to stay too long in the warehouse. This could happen when you buy products not popular in the market.
Providing your customers with a wide variety of options to choose from is a smart business. When there are a variety of options to choose from, buyers feel well informed. When they choose, you know they are making the right choice.
9.Paying High Tooling Fees for New Projects
While it is good to go for the unique, the unique in granite composite sinks might be too expensive. When working with a manufacturer, choose from their current models at the beginning. It is not advisable to develop new molds. Here are some reasons why;
Developing a new mold requires a huge capital investment. The processes involved in developing a new mold makes it expensive to undertake.
Developing samples from a new mold takes 20-40 working days. After an extended period, the sample finally came out. And you need to check out its quality as well as the design.
All these processes take time and add to the cost of production. This is why choosing from an existing model is wise at the beginning. When you are okay with the results, then develop a new product line with the manufacturer.
10. Failure to Identify a Professional Manufacturer
Granite composite sinks are unique in so many ways. Their production process is different from that of stainless steel sinks. Below are some factors you should consider when ordering sinks from manufacturers;
Go for a manufacturer that produces only granite composite sinks. Some manufacturers tell you they produce stainless steel sink and granite composite sink.
Doing this at the same workshop is almost impossible. This is because granite sink and stainless-steel sinks have different production equipment.
If you want to produce these two kinds of sinks at the same time, you would make use of two workshops. This is because of the difference in the production process. Also, the equipment needed to produce these sinks differ.
Companies like Chica Dragon have two workshops. These workshops are to produce granite composite and stainless-steel sinks.
On the other hand, the quality of after-sales services provided by the manufacturer is important. A manufacturer with good after-sales service is advisable. A good supplier will cooperate with you in all aspects, such as supplying and handling complaints.
Go for a manufacturer that would minimize the complaint rate. A good manufacturer aims for perfection. Sometimes perfection is difficult to achieve. A good supplier will help you grow.
Summary
No one ever wants to settle with the wrong granite kitchen sink. We always try to go for the best. But sometimes we make mistakes and end up buying a sub-standard sink.
The above write up 10 mistakes you could make when buying a granite composite sink. We believe that when you know these mistakes, you won't make them, will you?