Even if you use a dishwasher, you will still need to stand at the sink to wash and prepare food. You will also need to rinse dirty dishes and shake off excess water after finishing the dishwasher. The sink is a critical component of any kitchen and should reflect your preferences and needs. All of this asks for a compact sink in your kitchen – a small kitchen sink that gets both the job is done and doesn't take much space either.
The look and functionality of your kitchen will change drastically if you invest in a new kitchen sink. A well-thought-out layout, product selections that suit your needs, and a dash of personal flair to give the room personality are all essential components of a successful kitchen design. A dependable design expert can help you navigate the numerous decisions in kitchen renovation.
What is a Compact Kitchen Sink, and its Size?
You may already have a rough idea of the size you want your new kitchen sink to be, but you must first determine what will fit. Chances are that you have been looking to buy a small kitchen sink that won't occupy half of your kitchen counter space since you landed here. Compact kitchen sinks have been designed to fulfill exactly that purpose. This way, they are both functional sinks ready to be used whenever you want, but they don't burden your kitchen counter space.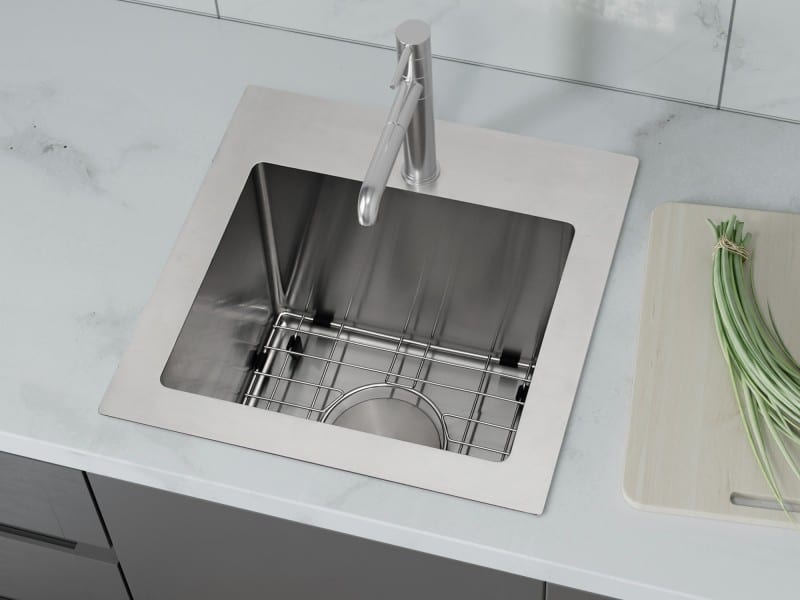 Typically, measuring the sink you purchase and then making space for it is better. However, taking some measurements from the existing plumbing is of help. It may be necessary to make adjustments behind the wall, such as lowering the pipe that feeds into the wall if the basin hangs too low for the sink to drain correctly.
Advantages of a Compact Kitchen Sink
Budget Kitchen Sinks
Compared to other regular sinks, compact kitchen sinks are significantly less expensive. These sinks are easy to use and offer the best value for your money. This is your best option if you're on a tight budget and want a decent sink without spending too much money.
Easy Installation
Compact kitchen sinks can be installed in your kitchen much more quickly and easily. Placing the faucet is much simpler and more practical as there is only one drain.
Convenient to Use and Clean
These sinks are typically considered ideal for people who plan to wash their small dishes and other utensils by hand. Although cleaning a small space might involve a little more stretching, it is less taxing than the more frequent and labor-intensive cleaning needed around another sink.
Compact Sinks Mean More Counter Space
Using a compact kitchen sink will typically give you more counter space than using a double sink, or any other regularly used sink. Every dish may be rinsed before being placed on the counter installed above or nearby.
Compact Sinks Give Your Kitchen a Smart Look
Compact kitchen sinks are very simple and aesthetically pleasing. They look stunning and perfectly complement a small kitchen's overall design. If you have a modular kitchen, it can help you completely redesign its appearance.
Disadvantages of a Compact Kitchen Sink
Difficult to Multitask
If you have a compact sink installed, you will not be able to multitask like people with a double kitchen sink or a huge bowl. A compact kitchen sink will always force you to finish what you've started before moving on to the next task. However, for many people, this makes getting done with tasks simpler.
Not Suitable for Larger Pots and Dishes
Large cooking pots or garbage disposal may not fit in a small sink. A single larger sink may be a better option if you frequently wash large quantities of produce, use a lot of large utensils, or wash your dishes by hand.
Sometimes Have Awkward Extensions
Compared to bigger sinks, you know compact sinks are typically smaller. It might be necessary to position yourself awkwardly to clean the sink or its counter space, sometimes even when trying to wash a larger pot. Making a long, awkward reach to clean up several times daily will be necessary to keep the sink free of debris and moisture, supporting mold growth.
Dishes Get Jumbled Together
You cannot separate dishes contaminated with raw meat juices and frozen meat thawing from other dishes. Additionally, if a portion of the sink becomes contaminated, the entire sink eventually becomes contaminated. Delicate dishes are also more likely to break due to collisions with heavy dishes in the sink. If you decide to wash the dishes by hand, you cannot keep the dry dishes on one side.
Is a Compact Kitchen Sink Right for Your Kitchen?
Now that we know what to expect from a compact kitchen sink let's discuss some practical factors before using them. Compact kitchens are small and are suitable for small kitchens or one that needs an extra sink. They're convenient for washing small dishes and food quickly. They leave many empty counter spaces for your use as you may need them.
Considerations to Make Before Buying a Compact Sink
Check Your Plumbings' Location
You need to know where your current plumbing is located, so you know where you will be putting the sink. This will save money because it won't require hiring a plumber or paying for construction to move the plumbing. Moving the plumbing around may already be in your plans if you want to redesign your kitchen's layout, but changing the plumbing will increase your costs.
Choose a Convenient Place
The sink should always be placed near other appliances or work areas for convenient reach. This way, dirty dishes can be quickly rinsed and transferred to the dishwasher, which means it is also ideal for the sink to be close to the dishwasher. To make it easier to dispose of waste during food preparation or washing dishes, you might also want to place the trash and food recycling bins close by.
Pick a Suitable Construction Material
Many materials are available for compact kitchen sinks, including porcelain, stainless steel, and cast iron, but the most common is stainless steel. Check how frequently you plan to clean the sink and how much use it will receive. Porcelain sinks can get stains and scratches quickly but can be removed with a mildly abrasive cleaner. Stainless steel sinks will be simpler to keep clean and have a modern and minimal appearance.
Chica Dragon Compact Sink
For various reasons, Chica Dragon is among the best sink suppliers you can work with. Our brand has the unparalleled market knowledge, and the caliber of our products is outstanding. We have years of experience and know your needs when looking for sink accessories. We take pride in providing well-crafted products through our excellent marketing process, and having the proper purchasing process in place can make a difference in your experience ordering sinks.