There are usually two types of sinks in the sanitary equipment market that have gained much popularity over the years: the handmade sink and the drawn sink.
Each of them has its specifications and unique selling points, and we are here to tell you all about it.
If you are not aware of these two kinds of sinks, you don't have to worry. We got you covered.
What's the difference between them?
The main differences between these two sinks are their manufacturing process and function. Some essential points relate to the differences between both of the sinks; these are mentioned further ahead.
Where are they Usually Used?
Both of these sinks are mostly used in kitchen spaces; however, it is not a hardline rule to place them in your kitchen scenario. You can also use them elsewhere as well.
People also use these sinks in outdoor spaces, such as lawn basins and alley basins. The best feature about them is that they are flexible and fit accordingly in the environment they are placed in.
Specifications of Hand made and Drawn Sinks.
Both of the sinks have their specifications and their purposes. Starting off with the handmade sinks first:
Handmade Sinks
Handmade sinks are manufactured by using a different production technique. This technique is labor-intensive and requires more skill compared to other production techniques.
In this production method, the sinks are pressed with hands, and the corners of those sinks are later welded together. This is why they are named handmade sinks.
Material
The handmade sinks are built by using stainless steel sheets. However, the quality of the stainless steel depends on the company that you are buying from.
A high-quality stainless steel sink will cost more than a mediocre quality of stainless steel.
Stainless steel is an excellent option for basin sinks. This material stands out on rough usage and has a more extended durability.
Besides that, stainless steel material is easier to weld and manufacture in significant amounts. That's why the sanitary industry usually uses stainless steel material.
There are other materials present as well, such as cast iron. These sinks provide much more durability; however, they can be expensive.
Shape and Depth
The shape of handmade sinks is usually rectangular or square with four welded corners. The steep 10 inches depth provides ample space for various purposes.
The sinks are mostly used in kitchens, and this kind of depth will carry a good amount of dishes in the basin.
Thickness
The handmade sink thickness stands at 1.2 to 1.5mm. This thickness is the basic industry standard of handmade sinks, the fact that it is relatively thin; hence, it cannot be stretched like its counterparts.
If the sink is stretched in the production process more than it can bear, it will tear apart without a doubt.
Manufacturing Processing
The handmade sinks are produced by using laser-welding technology. Hence, the plate and equipment are usually of better quality.
The welding is based on high-quality standards, which might prove to be extremely durable.
Maintenance
One of the most common problems; that every handmade sink users experiences is maintaining a handmade sink.
The sink surely offers a great depth and extra space for usage, but with that, it also requires additional effort for cleaning and maintaining it.
One important thing here to understand is that the handmade sink's basin is flat. It does not have a steep towards the drain which is present in a sink
This means that the sink will not automatically drain the water after use.
To avoid damage and water spots, you will have to clean and wipe the sink basin after every use. You might also have to dispose of little debris that usually remains in the basin.
To know more about maintaining your sinks the right way, you can click here and check out this article.
Drawn Sinks
The drawn sink is the most common type of sink that is used in American homes, the sink is there for quite some while now, and the best part about (this sink) is that it is available in many variants and can also be made on custom specifications.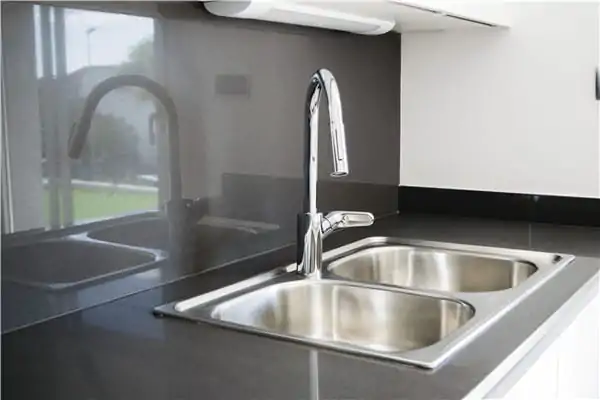 Material
The drawn sinks use the same material as the handmade sinks, stainless steel. The basic difference between both of these comes in the manufacturing process and the design.
The drawn sink material will definitely provide the same qualities as the handmade sink, which includes shine, durability, and stain resistance.
Shape and Depth
The shape of the drawn sink is usually an oval shape. The sink has round edges with a larger radius corner area.
This larger area cuts out the size of the drawn sink if compared to the handmade sink, which has welded out corners.
The depth of the drawn sink usually stands at 9 inches. This is the standard rate; however, some companies might have deeper sinks. Similarly, some might go with less depth.
Thickness
The proper way to measure a sink thickness is the 'Gauge' reading that is mentioned on the sink. However, the thickness of a drawn sink in layman terms differs from company to company.
The Industry standard average thickness of a drawn sink stands at 1.5mm and above. Compared to the handmade sinks, this rate is a bit higher.
The sink thickness will provide extra durability against usage and longer life than might be expected from a thinner designed sink.
Apart from that, the thickness of a sink also helps to reduce the clattering sound of dishes and cutlery when it is being washed.
Manufacturing Process
The manufacturing process of a drawn sink is completely automated. It is capital intensive, and that is one of the main reasons the drawn sink is usually sold at a cheaper cost than the handmade sink.
The making of this sink is done by pressing a stainless steel sheet by machine. The machine presses the sheet and gives it a specific shape. There is no need to weld the corners or join them together because of the predetermined shapes that are made through the usage of machines.
This is one of the reasons why pressed sinks are available in a greater amount of variants and custom shapes.
Maintenance
The maintenance of a drawn sink does not require any extra effort. The sink is steep, and the body is designed in such a way that conveys the water towards the drain.
However, it might be good that you take care of it by regularly cleaning it by swiping the surface.
This way, it will stay intact for a longer period of time and also maintain its shine!
Fill in this form to request a quick quote from Chica
How to Inspect a Hand Made Sink?
To inspect a handmade sink, there are several different rules that you need to keep in mind. Start with inspecting the corners. They should be shark edge or, in some cases, well-rounded, and then you can look at the welded corners.
Please make sure that there is no yellowing on the welding area because that means it has not been properly welded and might put the quality of the sink in jeopardy.
Which One Is Better?
There is no comparison between those two sinks. On the consumer level, it all depends on what preferences are of a single consumer.
At times people usually prefer the drawn sink, and at times people go towards the handmade sink.
However, the drawn sinks are usually used in modern spaces and interiors, and they are entirely adjustable and adaptable with a different type of kitchen setting.
On the other hand, the handmade sink is a more expensive option that adds flavor and grace to your kitchen.
These sinks do provide easy access in usage and give a sublime design to your kitchen environment.
Quick Recap
| | |
| --- | --- |
| Hand-Made Sink | Drawn Sink |
| Hand made and welded corners | Automated pressed steel sheet |
| Thickness stands at 1.2 to 1.5 mm max. | Thickness stands at 1.5mm and above. |
| Usually 10 inches deep. | Usually 9 inches deep. |
| More spacious | Less spacious |
| Requires more maintenance efforts | Does not require much maintenance |
Afterword
As we move forward to the next technological era, there is a huge possibility that these sink models might be replaced with better and newer versions.
Until then, these two sinks have their own specifications and qualities, which should be cherished in every possible way.
However, no matter how much advancement we make, there may always be a market for handmade sinks due to the fact that some people actually prefer and cherish a handbuilt product.
On the other hand, we might see some new developments regarding automation in the sink industry, which is sure to produce newer and improvised sinks at a lower price.
We hope that this helped you to understand the difference between a handmade sink and a drawn sink.