Handling sink warranty claims and returns is crucial to providing quality service as a stainless steel sink importer, wholesaler, or retailer. To ensure customer satisfaction and maintain a positive reputation, it is essential to have a transparent and efficient process in place. This includes having a written warranty policy, promptly acknowledging customer requests, offering replacements or refunds, maintaining product quality, providing clear product information, and maintaining open communication with customers throughout the process.
We're here with this article to help you maintain a straightforward and efficient process for handling warranty claims and returns!
How to Handle Sink Warranty Claims and Returns?
It's essential to guarantee your products meet the highest quality standards as a seller of stainless steel sinks. Even with the best production procedures, a sink might sometimes need to catch up to what the customer expects. To handle potential claims, it's critical to have a transparent and effective warranty and returns process. We'll advise on how to handle sink warranty returns and claims.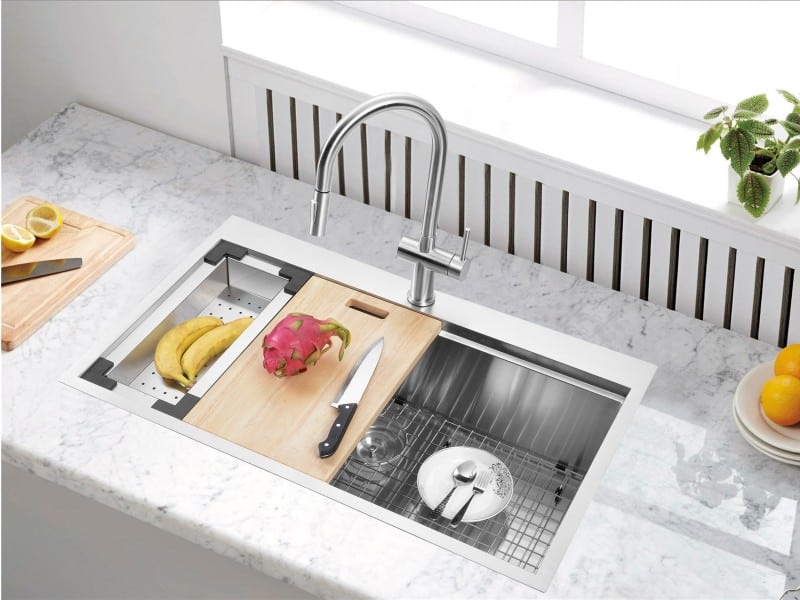 Make a Transparent Warranty Policy
It's crucial to prominently display your warranty policy on your website and in any marketing materials to ensure that your customers are fully aware of it. By doing this, you can show your customers that you're dedicated to delivering high-quality goods and services and help to earn their trust.
To ensure that you and your customers are on the same page regarding warranty claims and returns, you must have a clear and well-defined warranty policy. This policy should be carefully drafted to outline what is and is not covered by the warranty and the duration of the warranty period. This can help you and your customers communicate clearly and effectively, resulting in a better customer experience.
Your policy should clearly outline the warranty period and coverage and how customers can submit a warranty claim if necessary. This may entail outlining any timeframes or deadlines that clients need to be aware of and providing information on the kinds of data or documentation required to process a claim.
Give Clear Instructions for Returns
Giving customers clear instructions is essential for ensuring the return process is simple and hassle-free. A step-by-step breakdown of the return procedure, from making the initial contact with customer service to getting a refund or an exchange, should be included in the clear instructions. It's also critical to outline any return requirements, such as packaging guidelines or particular paperwork that might need to be provided, as well as the precise timeframe within which returns are accepted. Furthermore, having a dedicated customer service representative to help with returns and address any queries or issues can significantly enhance the customer experience and increase overall satisfaction with the business.
Examine Returned Sinks Carefully
An essential first step in finding any flaws or quality control problems with your product is to inspect returned sinks. By carefully inspecting it, you can ascertain whether a manufacturing flaw, shipping damage, or a problem caused by the customer caused the returned sink. Take immediate action to replace or repair the sink following your warranty policy if it is discovered to be defective. You're 'if you don't ask, you don't get. The quality of your products will improve, and customers will be more satisfied if you accurately pinpoint the reason for the return and take the necessary corrective action.
Train your Customer Service Team
The service team must ensure they can effectively handle warranty claims and returns. You should give your staff training on your warranty policy and claim-processing procedures. This covers customer interactions, like phone calls, emails, and face-to-face meetings. It's critical to stress the value of showing empathy, paying attention to customer concerns, and finding timely, satisfactory solutions to problems. A well-trained customer service team can solve customer problems and increase customer loyalty and satisfaction, both of which will be advantageous to your company in the long run.
Record Customer Feedback
Pay attention to consumer input, such as surveys and online reviews. For example, after a customer buys your product, you can create surveys and give them to them. The survey questions can inquire about their experience with the product, any problems or flaws, how simple it was to set up and use, and whether or not they would suggest it to others. In addition, customers can leave thorough comments and ratings about their experiences with the product in online reviews, which are another excellent source of customer feedback.
Analyzing feedback is crucial after you have gathered feedback. Look for recurring themes or problems that are brought up frequently. This can help you find issues that need to be fixed and adjust your products or processes. To determine whether changes positively affect customer satisfaction, it is also crucial to monitor changes over time.
Maintain Accurate Records
Any business that deals with returns and warranty claims must maintain accurate records. It is possible to spot patterns and trends that may shed light on potential problems with your products by keeping thorough records of all returns and claims. You can improve your manufacturing and quality control processes by analyzing this data, increasing customer satisfaction and resulting in fewer future returns and claims.
You can better manage the claims process by keeping accurate records. You can ensure that every customer receives timely updates on the status of their claim by keeping track of each claim's progress, which can help increase customer confidence in your brand. Additionally, if any problems arise in the future, keeping a thorough record of all transactions can aid in avoiding any potential disagreements or misunderstandings with clients. Overall, keeping accurate records is a crucial step in ensuring your business succeeds and endures for a long time.
Chica Dragon Warranty Claims and Returns Policy
Chica Dragon knows the value of dependability and trust regarding returns and warranty claims. Because of this, we are pleased to provide all of our customers with stainless steel sinks backed by a 15-year warranty, giving them confidence in the caliber of our goods.
Additionally, we are ISO 9001 certified, proving our dedication to quality management systems and guaranteeing that our products consistently satisfy legal requirements. Because of our cUPC certification, our sinks adhere to the strict plumbing standards of North American laws and regulations.
To guarantee total customer satisfaction, we provide a simple return process if any defective products are received. At Chica Dragon, we value our customer's confidence and satisfaction and work hard to go above and beyond for them in every way.