A kitchen sink is an essential component of every kitchen. No matter whether the kitchen is indoors or outside, it is the center of kitchen activity.
Choosing a suitable sink might be the difference between an outdoor kitchen you'd love and one you'd consider a disaster. Outdoor sinks and indoor sinks are similar in composition since the sinks perform the same function. The differentiating factor is that the outdoor sink has to withstand the weather.
The ability to withstand harsh weather should be a lead deciding factor when selecting a kitchen sink for your outdoor kitchen. Aside from that, here is a guide on choosing a suitable sink for your outdoor kitchen.
What is an Outdoor Kitchen?
The outdoor kitchen is the recent trend in kitchen construction. This current trend is not without merit, as cooking in the open air has its perks. With the sun overhead and the wind behind, the outdoor kitchen gives clients a kitchen space that is both natural and serene.
When establishing the dream outdoor kitchen, there are many factors to consider. Factors like plumbing, electricity, type of kitchen sink, and garbage disposal are put into consideration. All these factors contribute to the kitchen sink's effective functioning, which is one of the essential components of an outdoor kitchen.
So what other factors should you consider, and how do you go about it with much ease and effectiveness?
Factors to Consider When Choosing an Outdoor Kitchen Sink
Choosing an outdoor sink does not have to be difficult, although you'll make mistakes if you are not careful. As such, we have listed some factors you may want to consider when choosing an outdoor sink. These would help you in making the best choice of an outdoor sink.
Sink Material
There are currently several materials available for sink production, from ceramics to porcelain. But are these materials fit for manufacturing outdoor kitchen sinks? Not really. Our choice materials for making an outdoor kitchen sink are stainless steel and granite composite sink.
Stainless steel sink
This is one of the most popular sink materials available. It is the first choice sink in most homes and with good reasons too.
It is durable and does not rust easily. Getting a quality stainless steel sink is tricky because while most of them look alike, there are subtle differences that separate quality from mediocre. Let us bolster some terms you need to understand before going outdoor sink shopping.
When getting buying a stainless-steel sink, there are steel attributes to put into consideration. This includes steel gauge, grade, series, and radius.
Stainless steel gauge has a range of 16 to 22. The higher the gauge, the lower the steel thickness. This means steel with 16 gauge is thicker and more durable than steel with 22 gauge.
The steel grade is a parameter that has a role to play in how shiny a sink would be. It describes the amount of chromium and Nickel present in a sink material. A high stainless-steel grade is not ideal for the outdoor kitchen because it reflects a high quantity of sunlight.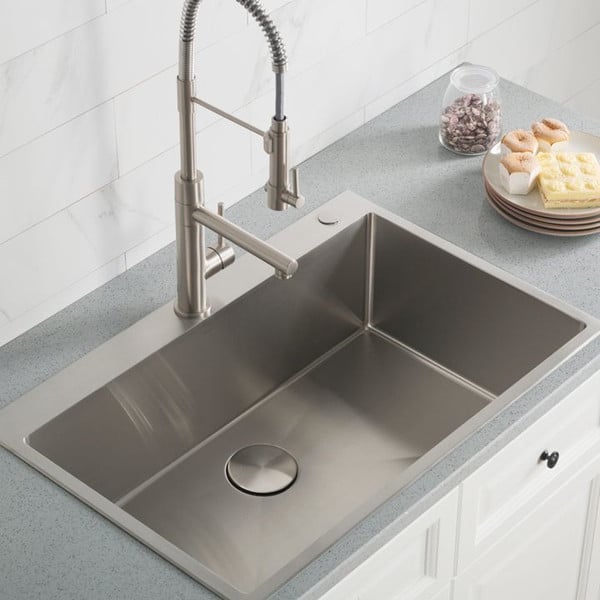 The series 300 of stainless steel is best for manufacturing stainless steel sink. It is a steel of high-quality processing and material. Stainless steel sinks all look similar. This makes it trickier to differentiate the series. The magnet test unravels this trick as series 300 does not attract magnets like other stainless-steel series.
Minus its tendency to reflect sunlight directly into the eyes, stainless steel is a fantastic material for manufacturing outdoor sinks. Companies like Chica dragon produce brushed stainless-steel sinks for just this reason. A brushed stainless-steel sink possesses all the remarkable qualities of the standard sink but does not reflect as much light.
Granite Composite material
The granite composite material is our second pick for an ideal outdoor sink. This sink has the color of stone, and this blends well with the outdoor environment.
A granite composite sink made from a combination of acrylic resins and quartz has a high longevity rating. It is made from artificial stone; harsh environmental conditions have nothing on this sink.
This material is highly resistant to heat. It can withstand temperatures higher than 500 degrees Fahrenheit. It is also a compact, non-porous material that differentiates from the conventional granite sink. This also makes it heat resistant.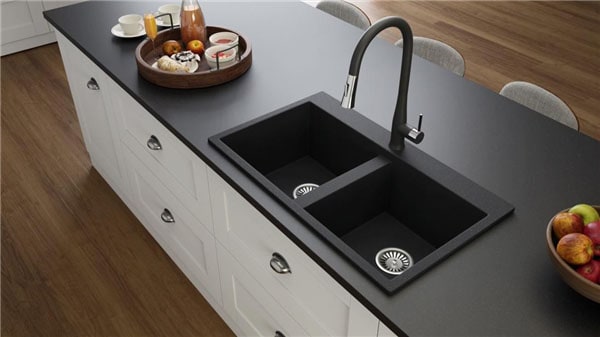 Composite granite, this material is resistant to chip and scratch. It is also easy to maintain. Cleaning with warm water and soft cloth keeps the sink in good shape.
One downside to this sink is its weight. It is a heavy kitchen sink that may require beefing up your countertops with support.
FILL IN THIS FORM TO REQUEST A QUICK QUOTE FROM CHICA DRAGON
Ease of Maintenance
In the outdoor kitchen, a spilled sauce does not give as much reason for concern as it does with the indoor kitchen. In the indoor kitchen, spills equate to long hours of cleaning the floor to return it to its initial glory. However, you should consider the ease of maintenance before going for any outdoor sink.
One factor that holds clients back from making the short leap from indoor to outdoor kitchen is the weather condition.
They sometimes feel that kitchen equipment exposed to the forces of climate would get bad. This is true in some cases, especially for electrical appliances. But for kitchen setups like the outdoor kitchen sink, this fear is unfounded.
The indoor kitchen sink deals with water every day and remains in shape; why should the outdoor kitchen sink change in condition and value?
Materials used for setting up the outdoor kitchen are resistant to the harmful effects of nature, retaining their beauty over time. Yet, it is wise to choose a sink that has an easy upkeep requirement.
Budget
When selecting an outdoor kitchen, you should look at the size of your purse. Even though the materials determine the price of purchase and installation, the configuration also weighs in. for instance, a single bowl sink will be cheaper and faster to install than a double basin sink.
Likewise, a more straightforward type like the corner sink type will cost lesser than the farmhouse or bar sinks. Hence, when you are considering aesthetics and functionality, you should look at your budget. You may go for the cheaper solid surface sinks for outdoor sinks if you can't afford the luxurious granite composite sink.
Basin Type
Yeah, there are two basic types; the single and double basin sink. Deciding just how many basins your outdoor sink should have is important too.
Having a large single basin sink makes scrubbing large kitchen utensils like pots and pans easier. But have you considered the versatility a double basin sink would offer you? Need one sink for storage and the other for washing dishes?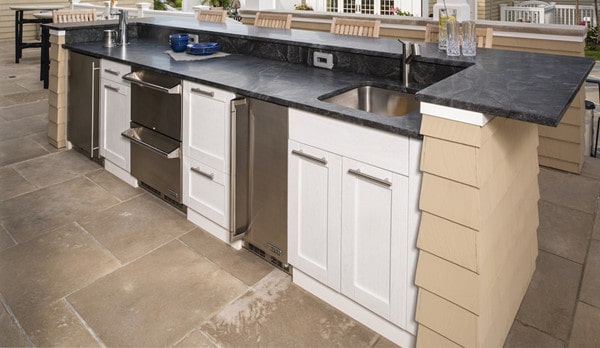 Chica dragon has double and single outdoor sinks from both stainless steel and granite composite sink materials. They are one of the top manufacturers of quality sinks, and the outdoor kitchen sink is their specialty.
Installation and Plumbing
What is a kitchen without the proper plumbing lines? How would you evacuate wastewater or wash fresh produce gotten from the farm or fruit market? Another critical question is what installation method best suits the outdoor kitchen? There are three primary kitchen sink installation methods: drop-in sink, undermount, and farmhouse installation. Drop-in sinks, like the name, imply, involve cutting a hole in the countertop and dropping the sink into that hole.
Undermount installation involves hanging the sink from under the countertop, creating a seamless flow from the countertop into the sink. With this installation method, it becomes easier to sweep debris from the countertop into the sink as there is no raised ridge here.
After deciding on the kind of installation method that best suits you, let us discuss plumbing. You would have to run water into the sink. This requires the services of a professional plumber. You also decide if you want to dig a dry well that would serve as a drain or merge with the home's sewer system.
Conclusion
Having examined both the stainless steel sink and the granite composite sink options for the outdoor kitchen sink, you should not find it challenging to make your choice. Both sinks have their pros and cons. Your choice should be based on merit to demerit ratio.
In simpler terms, would the cons of this product affect me in the future? Or are the cons negligible? Your answer to the above questions would go a long way to determine what kind of sink you fit into your outdoor kitchen space.