In the big world of sinks, you will find different variations available.
In these variations, you'll find further options when it comes to materials and the sizes of the sink.
To make a better choice when selling, you need to be at least aware of the different variations you can go for.
One of these variations is the zero radius kitchen sink.
I have compiled an article that contains all that you need to know about zero radius kitchen sinks.
Let's get straight to it!
What Is a Zero Radius Kitchen Sink?
A zero radius kitchen sink is a type of sink with no circular or round edges. The sink only has straight edges with 90-degree corners. The term 'zero radius' is just there to describe the shape of the sink.
The appearance of the sink is very stylish. Without any rounded edges, the sink looks very professional. It resembles the sinks found in upscale restaurants. For this reason, it is a popular choice among customers.
A zero radius kitchen sink is different from a standard sink in various aspects. The widespread use and practicality are different for these sinks. One difference is that due to the rectangular edges, you cannot tip over any dishes. This makes stacking dishes in the kitchen sink very safe as you don't have to worry about them falling.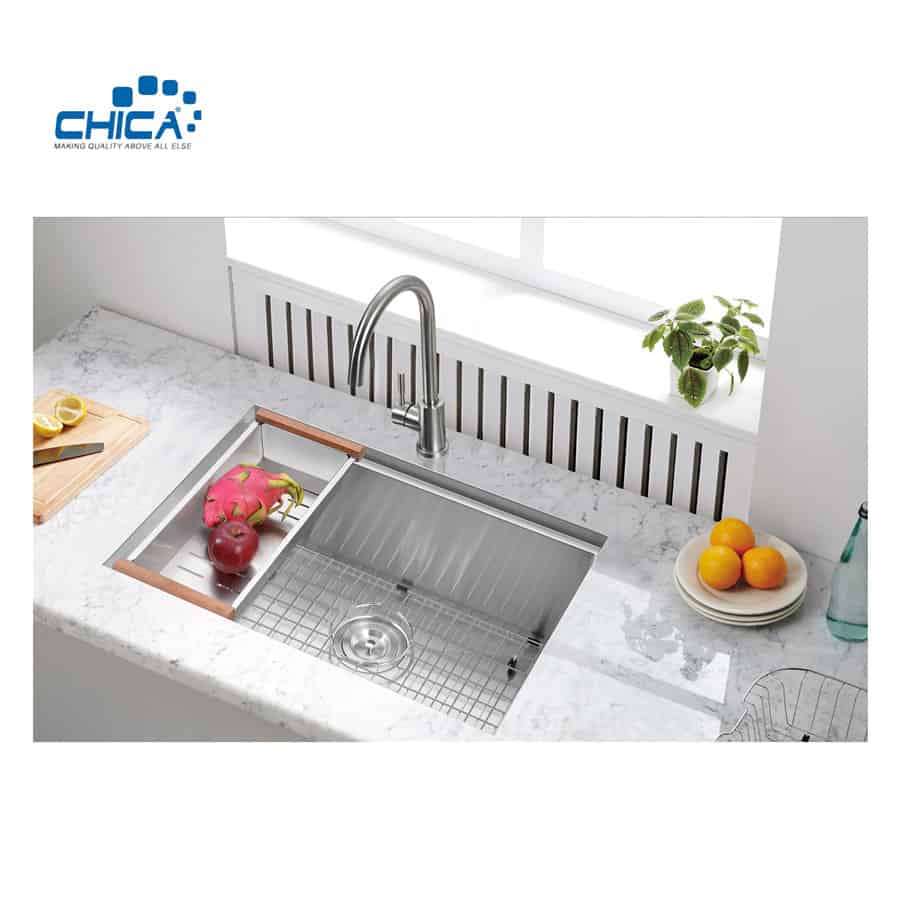 Another difference is the cleaning effort. The rounded edges are relatively easier to clean than the sharp corners. Adjusting to it might be hard in the start as people are more accustomed to round edges. But once you're past that phase, it becomes heaven for you because of the convenience it offers. Moreover, it adds a very sleek look to your kitchen and compliments the appearance.
These sinks can stand up to extremely rough use and can handle a large amount of food prep and dishwashing.
What Is The Material Used In Zero Radius Kitchen Sinks?
Zero radius kitchen sinks are available in a variety of materials. Stainless steel is a common variant found in restaurants and professional kitchens. Stainless steel enhances your kitchen's appearance and gives it a professional look. The material also is a trendy choice for sinks used in today's kitchens.
Other options that you will have are composite stone and copper. Composite zero radius sinks are available in a wide range of colours. This means that now the customer will be able to get a sink that matches with the stone of their kitchen counter. Composite stone also offers a lot of sound cushioning. Customers will find that the sink produces a lot less noise as compared to stainless steel.
Copper sinks have an antique patina which gives a kitchen a very traditional feel. This material offers a warmer look than stainless steel. This material creates a softer look for your kitchen. This goes with the zero radius kitchen sink as it provides a trendy modern look. Composite stone and copper fit well with that look.
How Are Zero Radius Kitchen Sinks Made?
Zero radius and handmade stainless steel sinks are made in the same way. They cannot be manufactured with the stamping method.
Choose the right thickness of the steel
The manufacturer selects a specific thickness of the steel. This thickness is according to the requirements of the customers. Generally, the thickness is around 1.2mm-thick. These sinks are handmade, so the thickness range is more significant than a drawn sink.
How the steel is bent.
Next, you bend the steel at right angles. You should not pass the steel through fire or stretch it as that may damage the steel and affect the product.
The process of welding
Next comes the welding process. Firstly, the manufacturer welds steel manually. This includes manual welding, edge seam welding and angle spot welding.
Next, automatic welding takes place on steel.
This is a process which combines both standard and automated welding.
How the sanding belt is used
After that, the manufacturer uses a sanding belt to get rid of the marks on the surface of the steel. These marks include welding marks and oxidation marks on the steel.
Polishing to ensure surface quality
Any additional marks on the surface of the sink will make it lose its value. You have to deal with them right away so that your sink does not fall in price.
Add a pad to avoid any damages
Then you put proper padding on all four sides to protect the sink from any kind of damage.
Spray-paint the sink to increase its value
After that, the sink is spray painted to make the layer of the sink flatter. In this process, you have to make sure that you use the appropriate spray paint. By that, I mean that the spray paint should be soluble in water and must be odourless.
Packaging the sink for shipment
After that, the sink is ready for shipment after packaging.
Pros Of a Zero Radius Kitchen Sink
Zero radius kitchen sinks have their advantages over standard sinks found in a market.
Firstly, the zero radius sink has a perfectly flat bottom. This makes stacking dishes much easier as it makes the surface very stable. This also makes it easier to store glasses. Glasses are a hassle to deal with when it comes to round sinks. A glass just doesn't stand in a sink!
Well, the zero radius kitchen sink puts an end to that. Your glasses will stand straight due to the flat surface, which will reduce breakage.
Because the corners aren't round, you have more working room. The rounded edges took up some unnecessary space on your counter, which was not utilized. The rectangular shape of the sink offers you more capacity in the same amount of space.
Zero radius sinks are often paired with great accessories too. They include sink grids that help your sink with stability. A sink grid also protects the sink from any damage. Other accessories include cutting boards and colanders. These sit firmly on the sink's edges and can turn the sink into a usable food prep space.
Cons Of a Zero Kitchen Sink
There are drawbacks of the sink too. The features that make the sink visually appealing introduce some difficulties as well.
First of all, the sharp corners aren't easy to clean. Regular spray and scrubbing are essential for the sink to remain clean. This might not be a problem initially, but over time more gunk will start to pile up. This will increase the cleaning effort of the sink over time. Customers will have to put in more effort in the cleaning process as the sink ages.
Another drawback is that the flat bottom creates problems when it comes to drainage. The flat surface will cause water to stand in the sink, and a need to spray the sink regularly will arise. This shouldn't be an issue if you don't mind some extra effort while cleaning.
FAQs
What are the radius corners on a sink?
The radius is basically the angle of the corner of a sink. Just a small change in the angles of the corners can give the sink a distinct differentiated look.
What is the best depth for a kitchen sink?
The ideal depth of a kitchen sink is around 8 inches deep. According to professionals, a perfect sink should be at least 27 inches long, 20 inches wide and 8 inches deep.
What is the easiest kitchen sink to keep clean?
The easiest kitchen sink to clean is the stainless steel sink. Stainless steel is non-porous. This means that it does not have tiny small holes in it in which crumbs of food can stick.
This makes the sink easier to clean as it will not hold on to any food debris. Also, there are a lot of cleaners for stainless steels as well, which can help you clean the product. These sinks are very easy to sterilize, which explains their use in hospitals.
What is the most durable kitchen sink material?
Stainless steel is one of the better options if you're looking for endurance. These sinks have a variety of thickness. Generally, the 16 to 18 gauge thickness steels are pretty strong and are more resistant to dents.
Conclusion
Zero radius kitchen sinks are popular options for people who are going for a more modern look.
They are one of the many options you can go for while making a decision on the type of sink you want to sell.
I hope this article provided insight into what a zero radius kitchen sink is.
Good luck!