Choosing the right kitchen sink for your business can be a tough job. The reason is that there are an immense number of options available in the market.
The kitchen sink is the most crucial element of a kitchen. A kitchen sink should be functional and reflective of the overall style of the kitchen.
In a competitive market, you should be well aware of your product's features. The quality of your product will ensure customer satisfaction. If you search online, you will find many new types of sinks that might confuse you.
For this reason, we have compiled this guide of more than 15 types of kitchen sinks. This visual guide will help you in choosing the right picks for your business.
Based On Material
Stainless Steel Sinks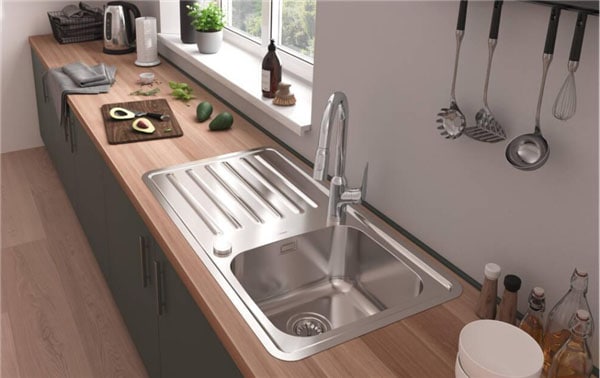 Stainless steel sinks are the most common type of sinks in use. Both cheap and premium quality stainless steel sinks are available in the market.
People prefer these sinks because they are durable, very easy to clean, and cheap. But, they might not look as good as other options. Moreover, the stainless steel quality is not always up to the mark, and the steel might rust over time.
Ceramic Sinks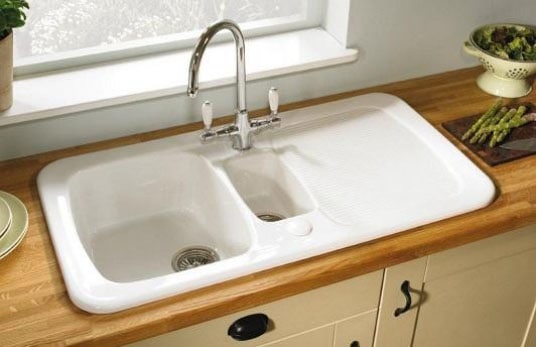 Ceramic sinks have raw materials like metal, clay, or glass. They have a smooth surface that does not absorb too much water, making it a worthy kitchen option.
People prefer these sinks because of the impenetrable surface and low price. They're also easy to clean. The body cannot handle very high temperatures, so you need to be careful while putting hot pans.
The layer might also get chipped or scratched, causing early replacement.
Fireclay Sinks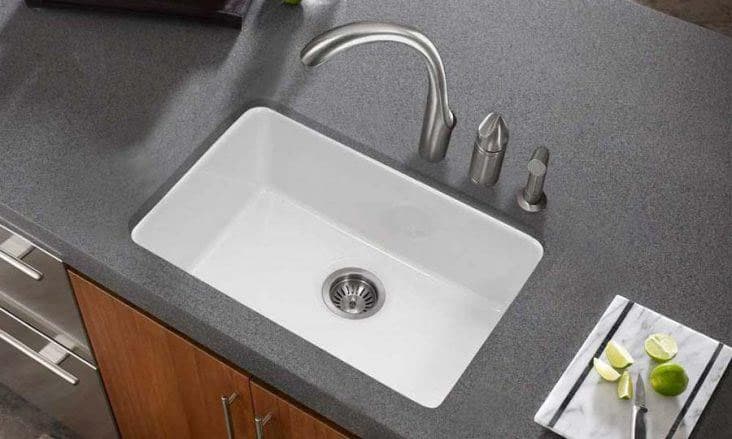 These sinks get the shape as a result of molding ceramic clay. Porcelain enamel glaze then covers the clay. This fusion results in a sturdy and tough sink material.
These sinks are customizable and versatile. They are one of the most durable options available. They are also non-porous and resistant to acids. But, they are quite rare to find and fall in the most expensive category.
They are also pretty hard to install because they are heavy.
Cast Iron Sinks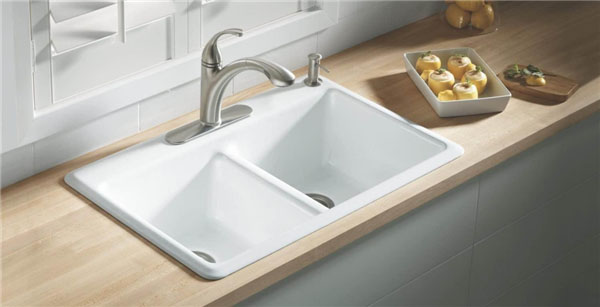 Cast Iron Sinks are fashionable and vintage in style. These sinks have enamel coating to allow various color variations in them. Yet, the enamel lacks durability and can chip over time.
These sinks have been popular in rugged locations because of their durability. As a result, such sinks need a strong base for their support. Due to enamel's presence, they may chip or stain, so we recommend such sinks in areas of rough use.
Granite Composite Sinks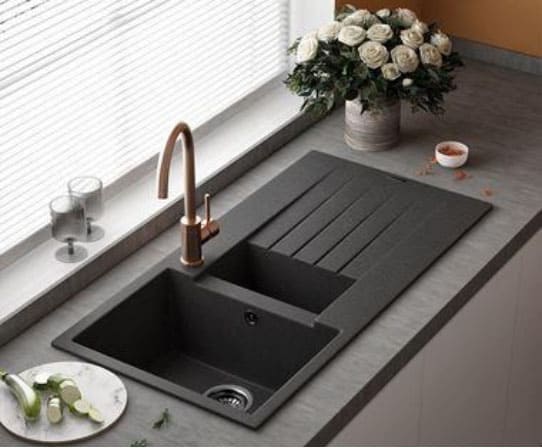 These are particular types of sinks made from quartz sand and acrylic resins. The right combination would be 80% quartz sand and 20% acrylic resin. The result is a durable and sturdy stone.
These sinks are long-lasting, heat, and scratch-resistant. They are cost-efficient, low-maintenance, non-porous, and good looking sinks.
But, because of their hardness, fragile glassware might break. They are also heavy and need a sound support system, increasing the cost.
Natural Granite Sinks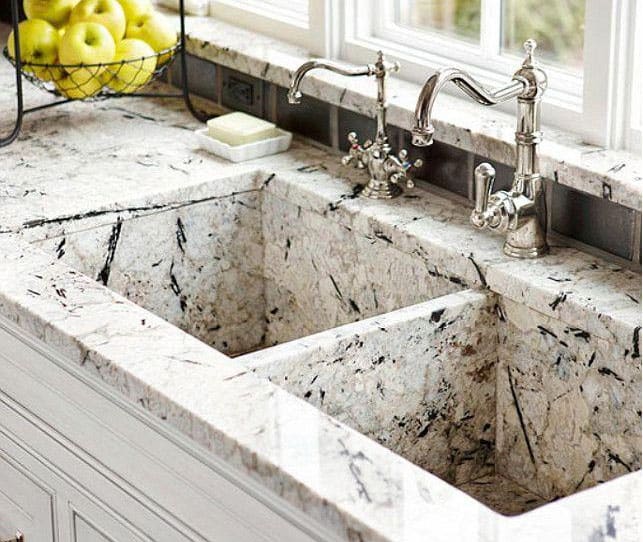 Natural granite sinks comprise a single block of stone and are composed of 100% granite. So these stand out as most sinks are hybrids of different materials. Unlike composite granite, they are porous and need a special coating.
These are unique sinks. The way they look is because of the natural mineral formation. They are also heat-resistant sinks. The downside is that they are less durable and more expensive. They are high-maintenance as they need frequent sealing.
Porcelain Sinks
Porcelain Kitchen Sinks are a mixture of various natural elements. These sinks are impermeable by water and moisture, making them durable. These sinks are white, and to color them, they have an enamel coating.
These Sinks are easy to clean due to their light color. They are also round, which stops unwanted waste from being stuck in the edges. The round nature of these sinks makes it easier to clean them.
Solid Surface Sinks
Solid surface sinks are made from solid synthetic sheets formed by mixing a mineral compound with polyester and/or acrylic resins. This material provides a seamless look and with lots of colors and designs to choose from. But it's not heat resistant and scratch-resistant.
Based On Function
Farmhouse Kitchen Sinks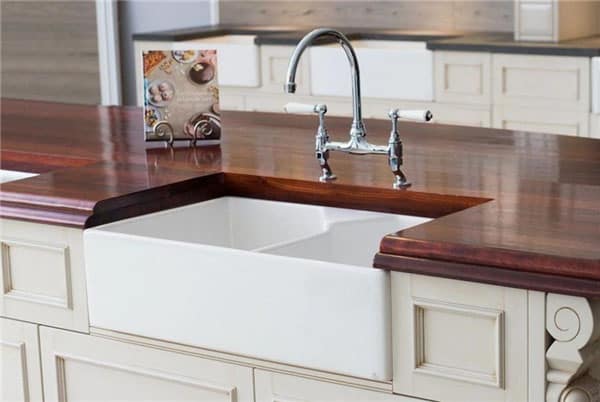 These sinks feature a deep basin with an apron-like panel, which protrudes a bit resembling a counter. This sink is a part of traditional kitchen settings because of its homely character.
The design enables the user to stand in front of the sink, which helps more while washing. These sinks can endure a lot of wear and tear and offer a big room for cleanup. But, as there is no counter space up front, water might drip on the floor.
Moreover, these sinks are pricier and need more work to install.
Handmade Sinks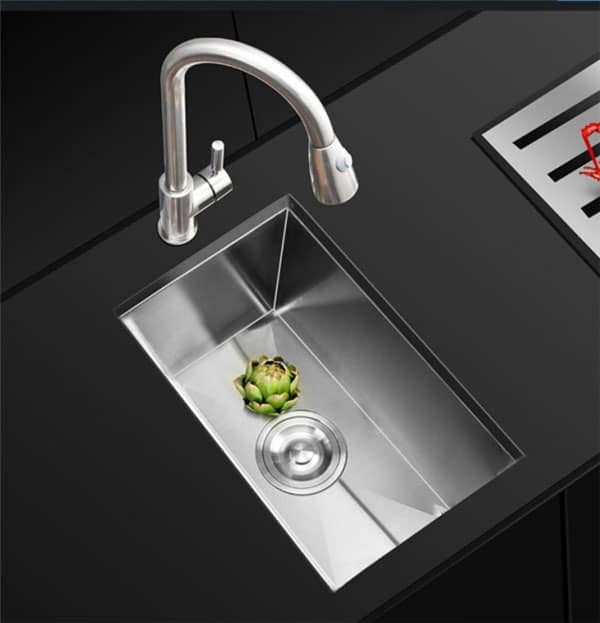 Handmade Sinks are premium because they have both thicker steel and a thicker steel gauge. They are a result of manual labor, which gives it the name.
These sinks can be of any size and thickness, making them ideal for a user interested in personalized kitchen sinks. Because of the time required to make such sinks, they are expensive yet durable.
Disappearing Sinks
Disappearing Sinks are modern sinks that have a compact and elegant design. These sinks have a movable flush that uncovers the inside of the sink by pressing a button.
The unique feature of this sink makes it a rare and expensive option. Such sinks are suitable for a user with a high-end kitchen as they add much ambiance.
Low Divider Sinks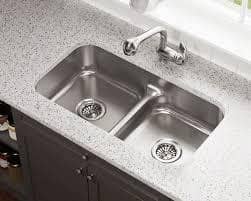 These sinks use quartz or granite, which makes them strong and durable. They feature a removable middle divider that is half the height of the standard kitchen sink.
These sinks provide the user with higher accessibility. The handle of pans and pots can fit with ease, which provides the user comfort of use. These sinks can work in any interior design and add to it.
Pressed Sink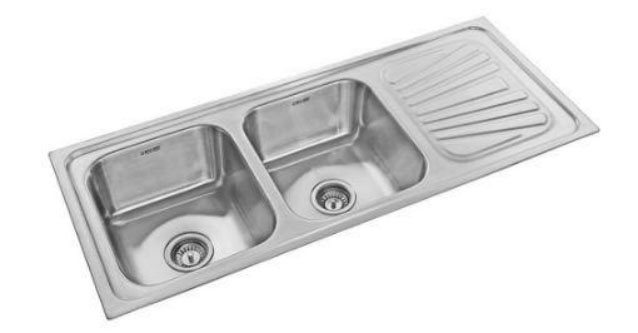 Pressed sinks have steel that takes shape by a hydraulic press. These sinks are custom made and use a thin layer of steel, making them light in weight.
These sinks require less labor due to the presence of modern machines. They are cheap in cost despite their utility and are ideal for users of all categories.
Drainboard Sinks
Drainboard Sinks have an attached board that allows users to stack up dishes while washing. These sinks do not have a particular composition, but they do have a specific design.
These sinks provide high functionality to users. They have an efficient space allocation design that allows users to dry their dishes. These sinks are ideal for users that do not use dishwashers and prefer compact designs.
Integrated Sinks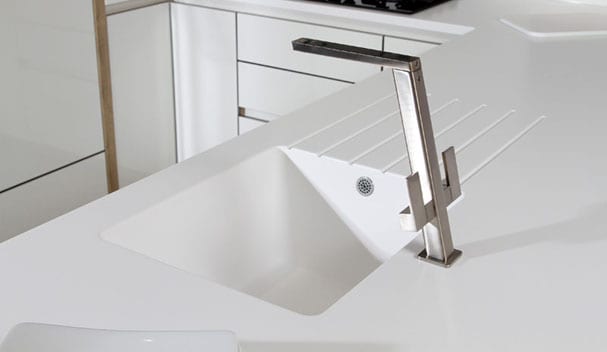 Integrated Kitchen Sinks have solid surfaces. They are either of stone or quartz, providing higher quality. As a result of their composition, they provide variety in finish and color of the sink.
The essential advantage of these sinks is that they have the same surface as the countertop. Due to this reason, they look highly attractive. These sinks are reasonable in pricing and are perfect for a modern kitchen.
Based On Installation Method
Top mount Sinks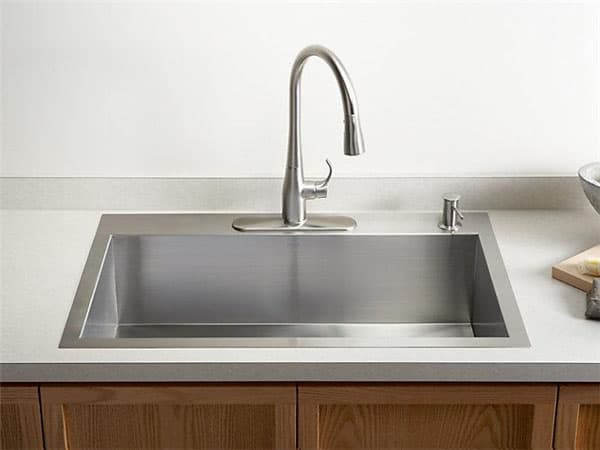 Top mount sinks have their lip above the surface of the countertop. The countertop holds the sink in place. In this way, you'll be able to see the rim of the sink on the countertop. They are also called "drop-in" sinks for this reason.
These sinks might be the right choice for you if you want to cut costs. They are also straightforward to install. If you have a high-end stone countertop, we would not recommend this type as it does not look too attractive.
Undermount Sinks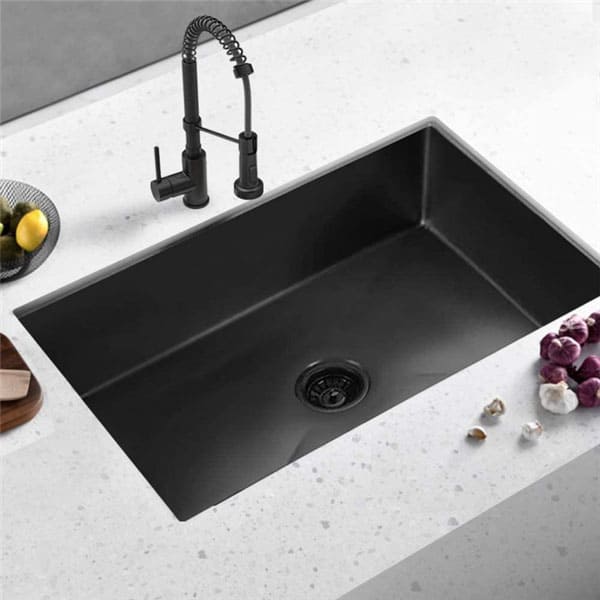 Undermount sinks sit beneath the surface of the countertop. They give a sleek look because the rim of the sink does not protrude outside.
If you have granite, quartz, or some other high-end stone countertop, these might be the right buy for you.
But, undermount sinks are difficult to install as they can't hang on the countertop. Thus, these sinks need screws, clips, and other mechanical fasteners to stay in place.
Bar Sinks
Bar sinks are quite smaller in size than a standard sink. Primarily used for small preparation tasks, they are about 9 to 18 inches wide and 6 to 10 inches deep. These sinks are most suitable for small counters.
They are ideal for users that need to conserve more counter space for other tasks. Bar sinks come in a variety of materials.
Corner Sinks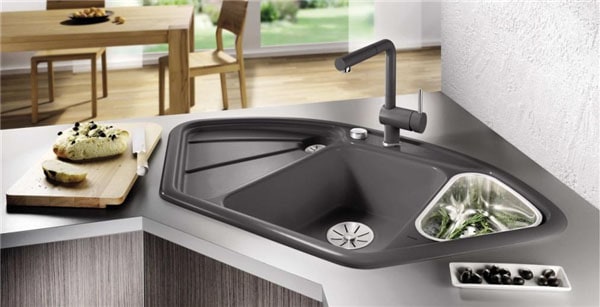 Corner sinks are most suitable for small "L" or "U" shaped kitchens. They are placed in the corner and save a lot of kitchen space. These sinks can come in many materials like stainless-steel, granite, or porcelain.
They have a smaller basin when compared with a traditional sink to maximize floor space. Kitchen corners are usually unused and these sinks can make very good use of the wasted space.
Final Word
It is different strokes for different folks. People make different choices based on what suits them best. Different sink types serve various purposes, hence, a retailer, should be able to provide a wide range of sink variety.
Make sure you don't go for the first thing that comes in front of you and actually put some research before buying a product. Making an informed decision is always better.