It's everyone's dream to redesign their kitchens with a sink that never gets moldy and is as hygienic as possible. Flush mount kitchen sinks have been designed to fulfill exactly that purpose. With this next to your countertop, you are no longer worried about tiny food particles entering the sink. A flush mount kitchen sink will prevent the crumbs from lingering around, so molds and decomposed food will no longer be your problem. Now think about it: a sink that continues to be immaculate and hygienically clean? Nothing could top such a practical buy.
A lot of people confuse undermount sinks for flush mount ones. And although they are pretty similar, there's a significant distinction between them: a flush mount sink leaves little to no seam because the top of the sink wall sits flush with the top of the countertop. At the same time, everyone has encountered under mount sinks where the top of the sink wall is level with the bottom of the countertop.
This distinctive feature is precisely why flush mount sinks are also known as integrated sinks. These integrated sinks are great for speed cleaning, expanding the workspace in your kitchen, and giving it an excellent modern and upscale impression.
What is a Flush Mount Kitchen Sink?
Don't worry if you still don't quite understand what a flush mount kitchen sink is because the title itself isn't explanatory.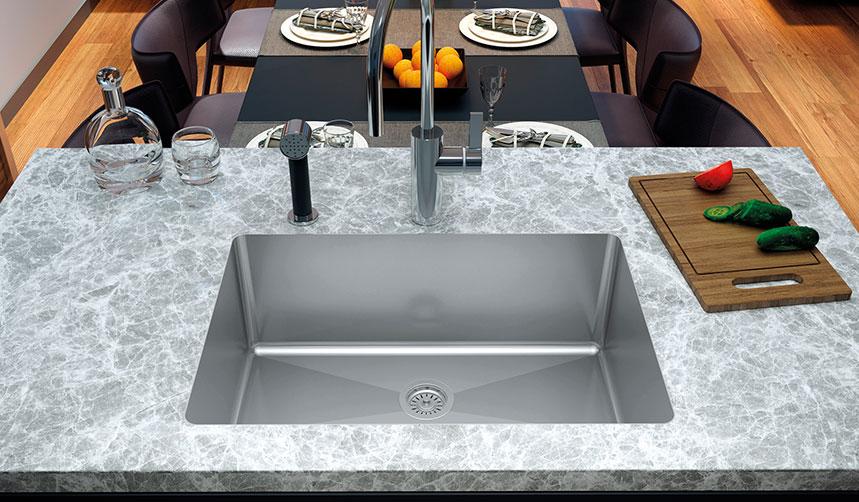 This sink is supported by the base cabinets, sitting flush with the countertop. Typically, the sink itself has a few extra inches surrounding the bowl. Even though the sink and countertop are made independently, they are flawlessly welded together, so there is no prominent edge or material variation from the countertop to the water basin.
Despite providing a usually smooth surface with the countertop so that spills can be cleaned right into the sink with any cloth, a grout is necessary between the sink and the countertop.
People have them fashioned out of anything, including marble, quartz, and granite, but professional kitchens typically use stainless steel since it is the most cost-effective material.
Benefits of Having a Flush Mount Kitchen Sink
Easy Cleaning
The best part about having a flush mount kitchen sink in your kitchen is the speed cleaning it allows because there is no seam between the sink and countertop. Food crumbs from your counter can be quickly wiped into the sink. No gap exists to collect these crumbs and potential mold, although using grout in places as such is a great option. You could also use a spray nozzle with a flexible hose attached if there is a little recessed area close to where water touches the bottom cabinet before meeting in the sink basin. Since there are no hidden crevices under your sink, there is virtually no risk of mold growth.
Space Saving Upgrade to Your Kitchen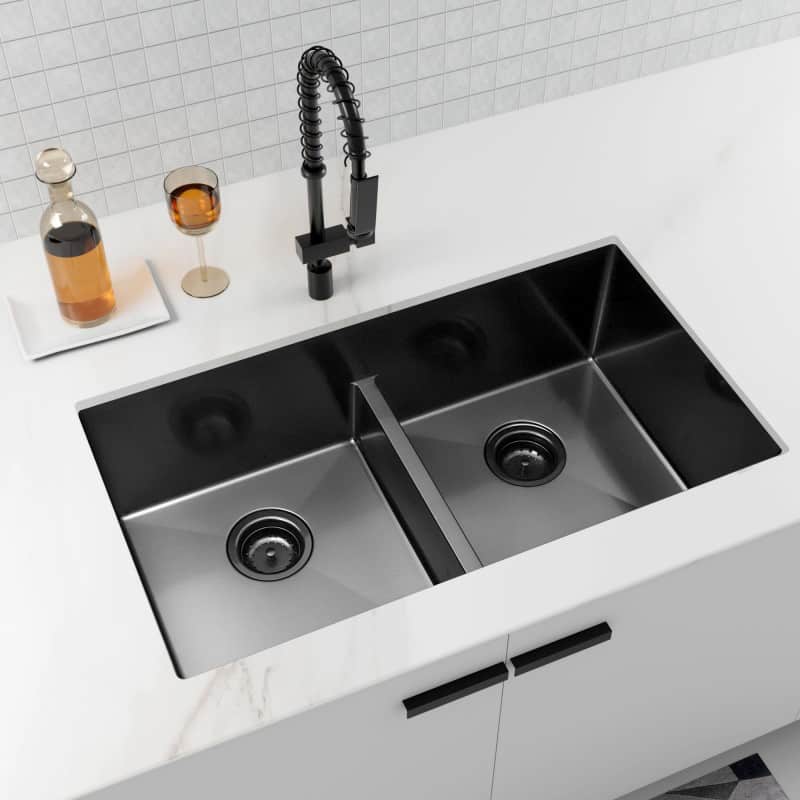 The flush mount sink is also an exquisite and modern addition to your kitchen. It's unrivaled with its uniform flow from the countertop to the basin. It's space-saving, so it can also give additional countertop space. But some counter space will go away if the sink has an incorporated place for drip-drying dishes. However, this drip tray can be used as a countertop component because it lays flush. In fact, in the cupboard beneath the sink, flush mount sinks prevail over under mounted sinks in terms of available space.
Practical Choice
These fixtures come in a wide variety, making it possible to provide correct drainage in all locations. Flush mounts are a practical solution for most kitchens since they can be put in any countertop material, including laminate and granite.
How to Install a Flush Mount Kitchen Sink
Professional Installation
This sink cannot be fitted by a non-professional unless they are a welder, plumber, or renovator! Even the repairs should be done by specialists or, if possible, the original designer. Because these sinks are made to sit on top of your countertop, flush mount installation is unique.
Installation Process
Flush-mount sinks are typically produced with a metal frame and a thin layer of cork or rubber, and they are intended to fit inside a mounting ring attached to the top of your countertop. Then, using screws or bolts inserted from below, this mounting ring is fastened to the base cabinets of your sink.
Variations in Countertops
Installation of flush mount sinks is tricky, with a tough difficulty level depending on the material of your countertop. Although it will be easier to install if you have a laminate countertop because the recedes for the sink lips can be cut in using a router. On the other hand, granite or cement countertops will be a lot harder. Still, it's greatly recommended that only a professional installs this sink, even if it's a laminate one. This is because the tolerances you are working with are incredibly tight. If any cut is slightly too big or too deep, the whole countertop will be thrown away.
Custom Builts
These are not available just anywhere since they are entirely custom built. Anyone who wants a flush mount kitchen sink needs to choose the material for the countertop and sink at home, where a professional then takes measurements.
Chica Dragon Stainless Steel Sink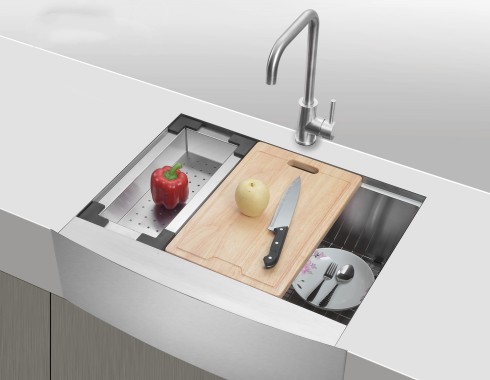 Many companies provide the high-quality flush mount sinks, but Chica Dragon stainless steel sinks are a favorite because of their flawless and vanishing edge. They are a leading supplier of numerous customized and expertly built sink designs. Although there aren't many producers of this kind of sink yet, Chica Dragon can provide you with the lowest-priced, best-quality low-divide sinks.
Chica values the quality of its finished products highly. There are many benefits to partnering with Chica Dragon for your low-divide sink order, including exceptional customer service and well-made sinks that consistently deliver to your location. Additionally, you can depend on Chica to provide access to a stainless steel sink that has received CUPc certification.
FILL IN THIS FORM TO REQUEST A QUICK QUOTE FROM CHICA DRAGON
Although most of the stainless steel sinks Chica offers are satin polished, you may choose some products with a brushed finish if you want. If you've had trouble finding the sinks you want to order, you need to check Chica's inventory right away.