If you want to order sinks that look totally unique and that are perfect for applications like the kitchen or the bathroom, you probably want a stainless steel sink. You might not want to have to get a normal-colored stainless steel sink, however. There are some applications where a stainless steel sink will not be the right color for the environment or the room in question.
If you want a sink that is more unique than a stainless steel sink, you should consider a gunmetal sink. This kind of sink will give you the benefits of stainless steel without having to accept the regular stainless steel color if it is not right for your needs. Gunmetal is a lovely color that is just slightly darker than stainless steel in its normal form, which can be ideal for some specific needs.
What is a Gunmetal Sink?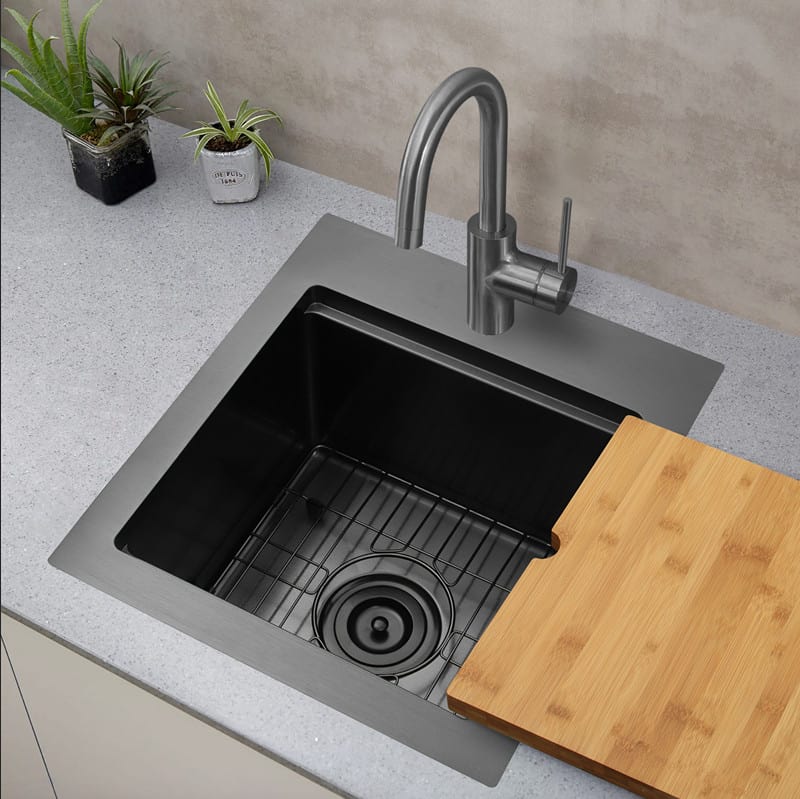 A gunmetal sink is actually still a stainless steel sink, but it is covered with PVD. PVD is a process that is actually called physical vapor deposition. This process is completed in a vacuum chamber where precious metals are evaporated and allowed to settle on the stainless steel. These are usually chromium, vanadium, or titanium. This impacts the color of the sink and changes it from bright silver to a gunmetal color.
PVD does not impact the use of the sink or its durability. It just changes the color of the sink to make it more unique. This is the same process that is used to make black stainless steel sinks. You will find that this kind of process is not offered at every stainless steel sink manufacturer, but it can be a big benefit for certain sink orders.
Being able to change the color of your sink slightly can be really helpful for some applications, but you would never want to give up the quality of the sink material just to get a different color. This is where products like PVD really shine and can make a stainless steel sink a slightly or totally different color without changing the composition of the sink in any material way.
What is a Gunmetal Sink Made of?
A gunmetal sink is made of stainless steel. This is why this kind of sink will be so durable despite the difference in color that the PVD affords your sink. You will get all the perks and benefits of the stainless steel sink without the bright and silvery color. The same is true of black stainless steel sinks, which are made using the same process.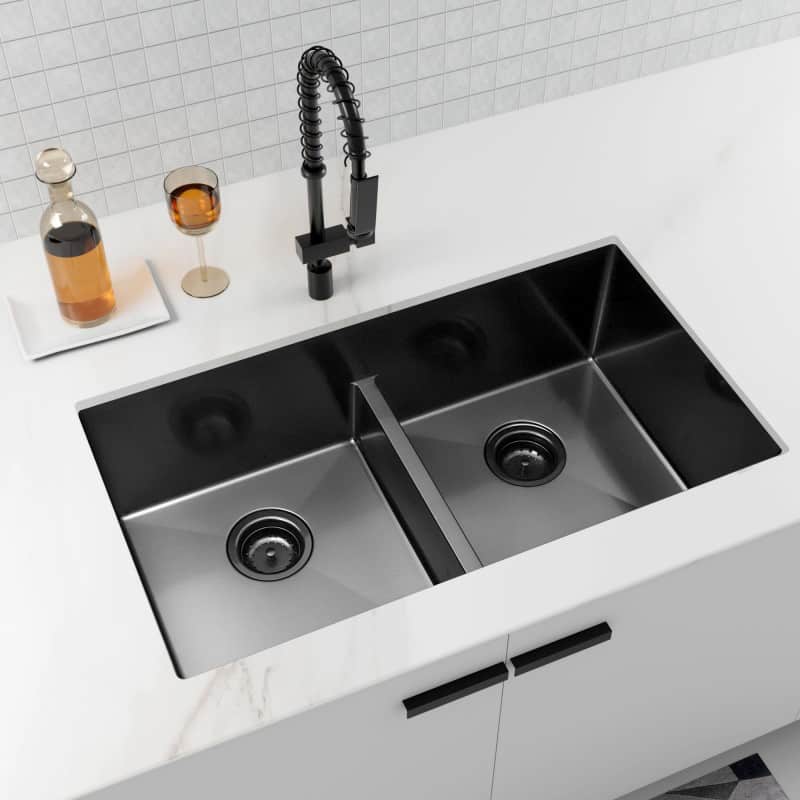 Gunmetal sinks are a great choice when it comes to lots of different applications where décor or personal preference does not call for a shiny sink, but you still want a tough and durable sink. Stainless steel is hard to beat when it comes to durability and practicality, but it is not always the right color for everyone's needs.
PVD is just as durable as stainless steel, and it will hold up to all kinds of tough jobs. A sink with a PVD coating will still be able to be used in the kitchen or even the utility room with ease.
Do Gunmetal Sinks Scratch Easily?
Gunmetal sinks do not scratch easily at all. This is one of the key reasons that they are such a good choice for many applications. You will get all the benefits of a stainless steel sink with the perk of a unique color layered on the top of the sink material. There are many reasons that you might love the option of a gunmetal sink, and the durability and the fact that the sink will not scratch readily are key reasons for making this choice.
Gunmetal sinks will also not show many spots of watermarks either, which can be really nice. There are other sink colors that show every single spot or spill, but not a gunmetal sink. Gunmetal is a really practical color, and it offers the kind of easy-to-care-for finish than regular stainless steel offers.
Gunmetal vs Regular Stainless Steel Sink
Stainless steel is the most durable and lightweight of the sink materials out there on the market today. It is affordable to make, ships well, and is easy to install. You can also trust stainless steel to be really easy to care for and to be easy to shape into all kinds of different sink styles with ease as well.
Gunmetal sinks offer all the same benefits as well since they are stainless steel sinks under the top layer of PVD. The layer of PVD offers you a unique color, and it is also scratch resistant and durable. This is really a case of getting the best of both worlds when you order a gunmetal sink instead of a regular stainless steel sink. You will be getting all the perks and benefits of the stainless steel material with the unique color and beauty of the gunmetal PVD finish.
The gunmetal sink is added a PVD coating on a regular stainless steel sink. And this PVD coating adds some functions such as anti-bacterial, oil-free, and anti-scratches.
Chica Gunmetal Sink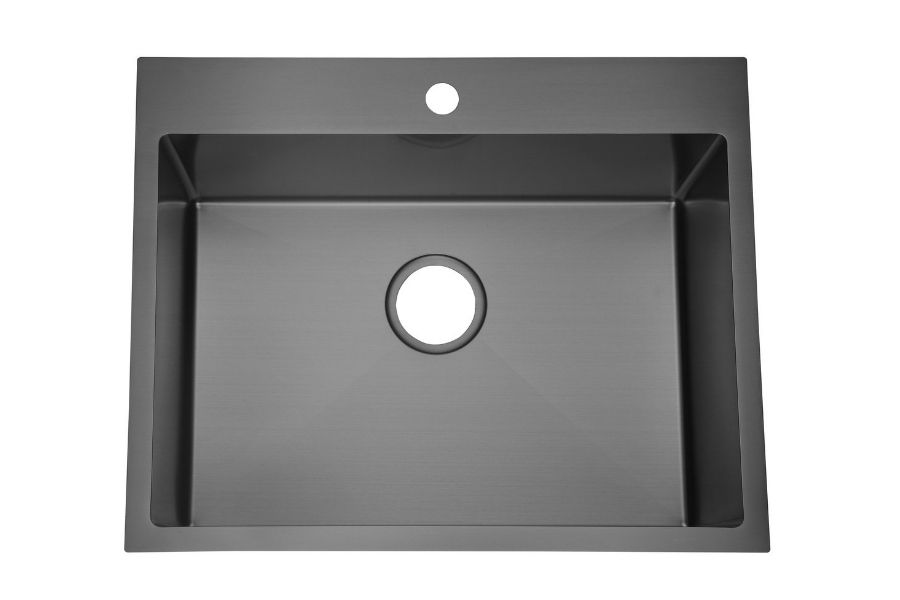 Chica makes quality gunmetal sinks that offer access to the durability and sturdiness of stainless steel with the lovely color of a gunmetal color. Chica Dragon makes the best sinks on the market, and you can buy all kinds of sink products and styles when you work with Chica Dragon for your sink ordering. Gunmetal sinks are a really ideal way to get a durable sink that is not a shiny and bright silver sink.
Chica Dragon makes ordering really easy, and you will enjoy fast and reliable shipping as well. There are so many reasons that you will want to work with Chica Dragon for your next sink order. You can trust that you will get the best gunmetal sinks on the market when you work with Chica Dragon for all of your stainless steel and gunmetal sink orders.