There's no denying that there are countless options in the world of kitchen sink designs. In addition to the more obvious choices that almost everyone is aware of, sinks have been taking over the kitchen market with not only different new styles but also as practical purchases. This is precisely why self-rimming sinks get all the hype that surrounds them!
The most widely used basins are self-rimming sinks – you might have heard someone call them top-mount or drop-in basins. As the name implies, they are dropped into a countertop through a pre-cut hole. A self-rimmed bathroom drop-in sink is one of the simplest and most straightforward to install among the various sink types.
What is Self-Rimming Sink?
Self-rimming kitchen sinks have a rim that rests on the countertop and supports the sink's basin, which is located below the countertop. The rim of these sinks is purposefully made to fit perfectly against the exterior surface, and they offer a sunken basin that can be attached quickly to a countertop. Usually, installation is straightforward and doesn't require a lot of equipment or special supplies. Similar to installation, removal is typically not too complicated.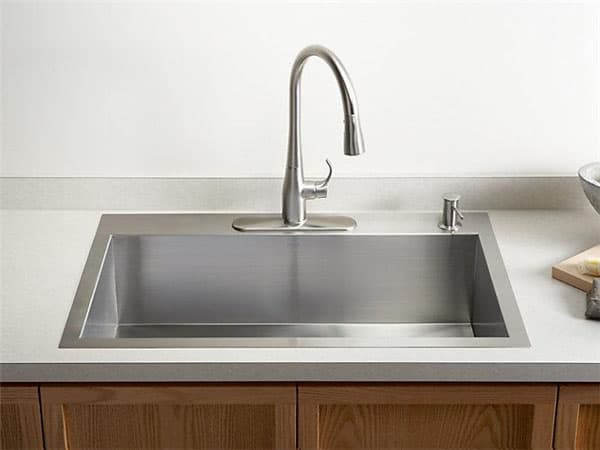 Most self-rimming sink models aren't mainly elaborate, but their simplicity lends a straightforward aesthetic that can be pleasing. They're also typically straightforward to clean and maintain because there aren't any crevices or cracks where mold or mildew can accumulate. They typically offer excellent leak resistance and are much more affordable than many other designs and models.
Benefits of Having a Self-Rimming Sink
Hygienic
A self-rimmed sink is much easier to maintain than all the other options in the market, which frequently have seams or crevices that are challenging to clean and end up serving as a haven for mold and bacteria. That is due to its clear and simple edges that are easy to clean and sanitize.
Easy Installation
Self-rimming sinks are unquestionably superior to other sinks, such as the under-mount sinks, in terms of installation time. Installing the self-rimmed bathroom sink only requires dropping it into a cutout and sealing it there.
Self-rimming sinks distribute the weight of the sink and its contents to the adjacent counter using the rimming lip. This enables these sinks to withstand heavy loads and rough handling that may be present in commercial applications.
Budget Price
It's only fair to think that cost and style should be perfectly balanced when designing kitchen sinks for a commercial or residential application. Most stainless steel self-rimming sinks are available in a wide range of beneficial and affordable models to match any function or style of choice.
The sink's cutout is concealed, which is another advantage the actual rim offers. Because the cut-out size and finish can be left rough or unfinished, as opposed to the under-mount, which requires an exact cut-out size and a finished, highly polished edge, this lowers the cost of producing the countertop.
Adaptable Addition to Your Kitchen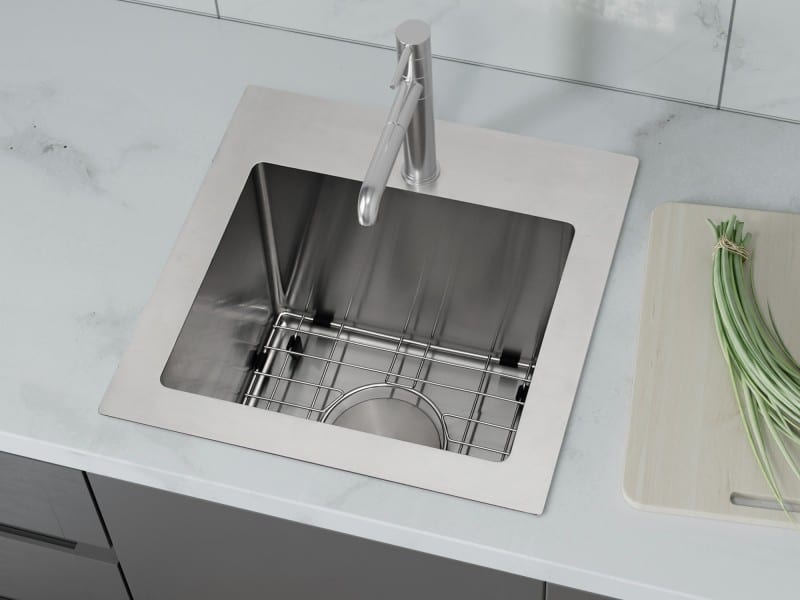 Design adaptability is increased with self-rimming sinks above all else if you need to replace the sink. Typically, replacing the self-rimming drop-in sink with a new one is simple and doesn't require moving the countertop. The design also enables the specification of a broader range of countertop materials. Any countertop material, including laminates, tile, and solid surfaces, can accommodate a self-rimming sink mounted directly into it.
In addition to offering several other advantages, a self-rimming drop-in sink can add visual interest.
How to Install a Self-Rimming Sink
The installation is easy, whether you choose to do it yourself or hire a professional. Depending on whether the sink is made of stainless steel or not, the installation procedure will change slightly after a hole has been made in the countertop.
If you want to avoid hiring a professional for this purpose, the following guide may help you out:
Pick Your Installation Spot
Make sure the location you want to put the sink in has a stable surface and can support its weight. This is crucial for the design's longevity and your future financial savings. The majority of countertop materials can accommodate a self-rimming bathroom sink. To ensure your surface can accommodate your sink, it is a good idea to check.
Cut a Hole in the Countertop
Create a hole for the sink's self-rimming faucet. The hole's dimensions must be exact to ensure that the sink sits comfortably and is stable during installation. The countertop's material will determine the best way to cut a hole. Each sink's specific instructions will include measurements and cutting procedure information.
Use a Sealant to Keep the Sink in Place
Coat the underside of the self-rimming bathroom sink's rim with sealant. A similar product, such as a plumber's putty, can seal the sink's rim to the countertop and keep the sink in place. Apply a bead of caulk around the sink's rim once it has been installed.
Finally, Put the Sink in Place
Insert the sink into the prepared hole. To ensure the sink is precisely where you want it to be, move it slowly and carefully. If any putty or sealant got into areas where it shouldn't have, clean the sink off after installing it in the cut-out hole.
Fix any mounting hardware that protrudes from beneath the sink. Put the faucet in place. The faucet should now be installed into the sink's faucet holes after the sink has been properly secured and installed.
Chica Dragon Self-Rimming Sink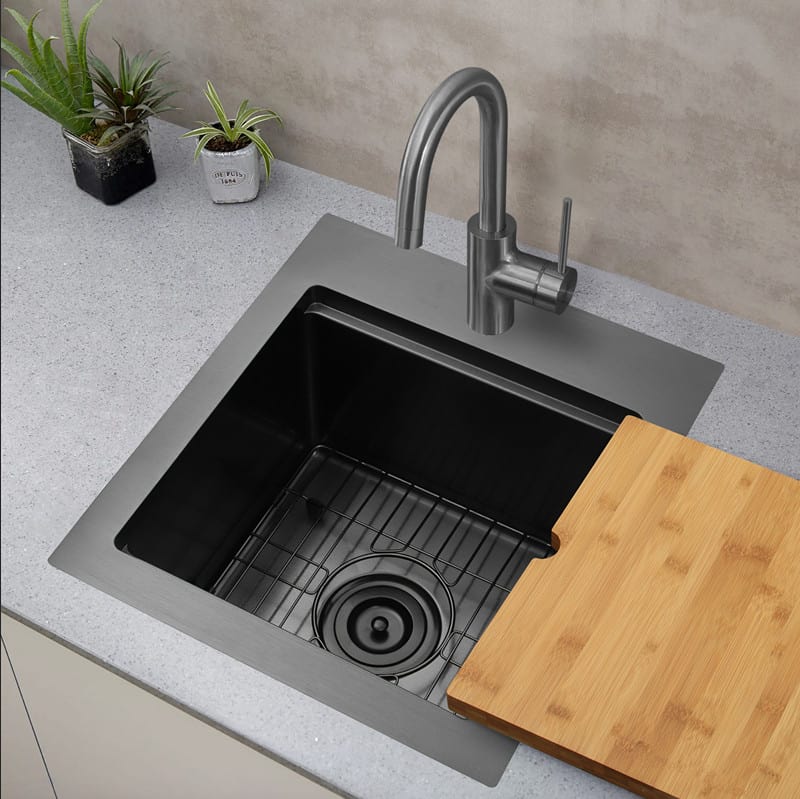 Chica Dragon is among the best sink suppliers you can work with. Our brand has unparalleled market knowledge, and the caliber of our products is outstanding. You'll discover that we are receptive, sympathetic, and knowledgeable. It's simple to get assistance with your order, and we're happy to provide certification and proof of our high-quality manufacturing. Additionally, we offer OEM services and a full supply chain.
We've produced various sink products for years, so we know what you need in sink accessories. The proper purchasing process can significantly improve your experience ordering sinks. We take pride in offering well-crafted products through our excellent marketing process. You can count on us to give you access to top-notch sink products and trustworthy ordering.
Chica's stainless steel sinks are expertly crafted, long-lasting, and attractive. When you use Chica to place your order, finding the ideal sink for your requirements will be simple. When you work with Chica, we take the time to ensure that every product you deliver will be ideal for your requirements. At Chica Dragon, we craft handmade sinks that will function flawlessly and maintain their beauty over time. Our design process ensures a perfectly made sink that will perform exactly as you need. Our skilled craftsmen know how to make the ideal sink for your needs. You will have access to the top handmade sink products when you order from us, along with exceptional customer service.