The sink used in a kitchen, along with the color scheme, is one of the most noticeable features in your kitchen.
But as time passes, the trends in kitchen design have changed. I have discussed such trends in this article which will help you in making your decision.
Let's get right to it.
How The COVID-19 Pandemic Is Impacting The Trends In Sinks
Coronavirus has impacted our lives. As we move towards an indoor life, we see trend shifts in many sectors of life. Sink trends are one of these.
The pandemic is still impacting the trends in sinks. Recently, a shift seems towards larger sinks and increased demand for a more unique, personalized sink. People have let go of commodity sinks and have shifted to unique sinks. They have recognized the importance of a sink and are finally investing their money into this.
Also, homeowners, these days want to expand their living spaces. People want more space in their houses and are looking to renovate their homes continually. As life shifts indoors, this is pretty much all they can focus on.
This need for extra space has caused people to be innovative, and they have started to turn their outdoor spaces into something they can use. For example, a lot of people have begun investing in outdoor kitchens. Moreover, people have also started renovating their garages and turning them into offices or gyms.
Since these new living spaces will be a little far from the kitchen, people have started to feel the need to add sinks. This will delete the need to go to the kitchen again and again if you need water. This can be seen as an opportunity for the industry, and we can capitalize on this.
Personalized Designs
Individuality is important in every aspect of your life. But most of all, identity and distinctiveness prove to be the most fruitful in the design industry. This includes kitchen sinks, water accessories, and faucets.
This means that you will have to take the bold risk of mixing different designs and producing matching finishes. Adding bold colors and specialized accessories to your kitchen sink designs may also boost your sales.
For example, a few years ago, blackened finishes and dark colors like matte black were not as popular in the kitchen design industry. However, nowadays, they are in-demand, and they aren't seen as polarizing.
Reports say that nowadays, brass tones and dark finishes are trendy. People have leaned towards dark colors with time. Nowadays, people are also inclined to mixing metals. A popular choice is combining a brass accent with a dark finish.
Also, a rise in popularity can be seen when it comes to pull-down faucets with spray features. Moreover, sinks with integrated accessories are also trendy in the market these days. However, these accessories should also have matching colors that go with each other.
Among finishes and materials, demand is stolen by brushed metallic finishes. Brushed gold has swept the market off its feet as it continues to grow in popularity. In addition to this, particular timeless finishes like brushed nickel and chrome don't look like they will go out of style anytime soon.
Focus On Health And Hygiene
Retailers and designers should also keep in mind the need for people to maintain a clean home. People have become more health-conscious as the pandemic is still going on.
This increases the demand for non-porous surfaces like SILGRANIT, which customers can easily clean without much effort. Along with pull-downs and closed coils, which are easier to clean, it is increasingly demanding these days. People don't like using harsh chemicals to clean their sinks.
Consolidated Functions
Kitchens are probably the most functional part of a house. Reducing clutter while making the kitchen more useful is what you should be looking into.
Sink manufacturers report that multifunctional spaces are in demand as people are looking to increase their kitchens' functionality. People want something that combines many functions into a single one so they can save space.
One thing that is in demand is workstation sinks and versatile faucets.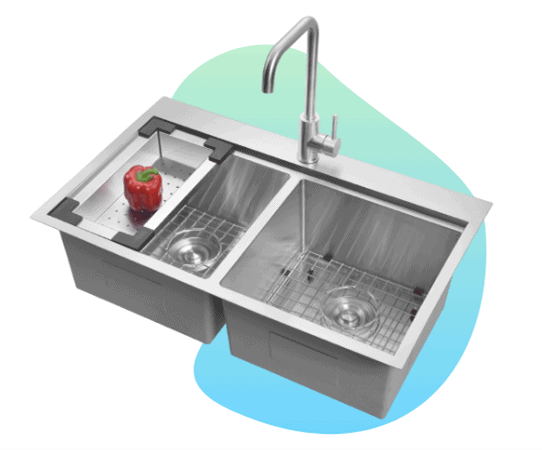 Professionals say that these workstation sinks, which have a cutting board and other functional spaces, have a good market. These sinks provide multiple levels of functionality in the same area.
Also, people are getting more daring when it comes to selecting drains. People have now started using different colors, and deep basket drains.
Hands-free
Another thing in demand is the hands-free faucets, the automatic ones you see at airports and other public places. With these, you don't need to touch the faucet, and water starts flowing automatically.
Hands-free faucets have also seen an increase in their demand for many years. The COVID-19 pandemic has increased the need for hands-free sinks as touch is 'forbidden' nowadays.
Conclusion
As time goes on, you have to realize that people's preferences will also change. What people prefer right now may not be the same a year later.
You, as a business, have to adapt to these changes if you want to stay on top.
I hope this article was of help in making a decision.
Good luck!