As for any industry, the safe and recyclable products to invest in are trending products.
To make choosing easy, we've compiled this article in which we've described the trending products in the kitchen sink industry.
Let's get right to it!
Bold colour granite sink-Ruvati epGranite sink
Ruvati has added to its collection with a new bold colour. It has expanded the already in demand epiGranite series with this beautiful sink.
The inspiration for this colour comes from the mesmerizing car, Ferrari. The colour compliments the Italian collection of Ruvati perfectly.
The yellow tint adds up perfectly with the white color, and it will fit extremely well in light-colored kitchens. The manufacturer follows the trend of adding unexpected colors in your kitchen with a bright yellow addition.
SCHOCK Cristadur Green Line Sinks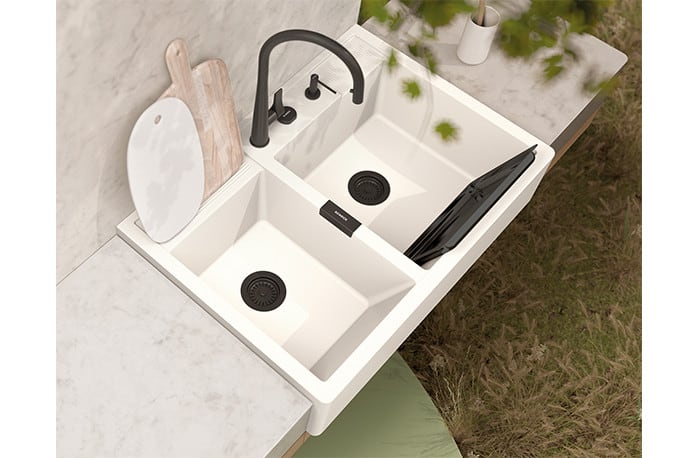 This Cristadur Green Line is a sustainable quartz composite sink. SCHOCK has continued its extensive line of sustainable sinks. The company has managed to manufacture sinks that agree with nature and Earth.
The company only produces in Germany. It has blessed us with a beautiful quartz composite sink with quartz sand from the local area.
SCHOCK has taken its green initiative one step further. This new Green Line will feature sinks consisting of materials made with ninety-nine per cent recyclable raw materials. Pertaining to the tradition, this sink will also be made up of seventy-five per cent quartz.
This quartz sand will be incorporated with natural colour adders. The binders will also be made up of natural and renewable components.
For starters, the company is offering seven different models internationally: Kallio M-175, the Greenwich N-100L and N-100XL and the Wembley D-100, D-100L, D-150 and D-200.
SCHOCK plans to add to this product range by manufacturing more sinks under the green initiative.
These quartz sinks are being sold in primarily two colours: day and night. SCHOCK unveiled a pure black colour back in 2013, which was known as Puro. Puro was a shade of pure jet black. Now new colours are also being offered.
The night variant is a perfect representation of its name. It's a strong, graphite black in colour. To the Opposite, the day offers the other end of the spectrum. It is a pure white sink.
Kraus Dex Series
In light of the pandemic, creating a healthy space is essential nowadays. Simple solutions for fighting germs in a household are of extreme importance.
Kraus has taken a healthy home initiative and has expanded its Dex collection.
This is a stainless steel sink which adds a modern look to your kitchen. This sink is easy to sanitize as well, which adds to the advantage.
Barclay Products Bailey Farmer Sink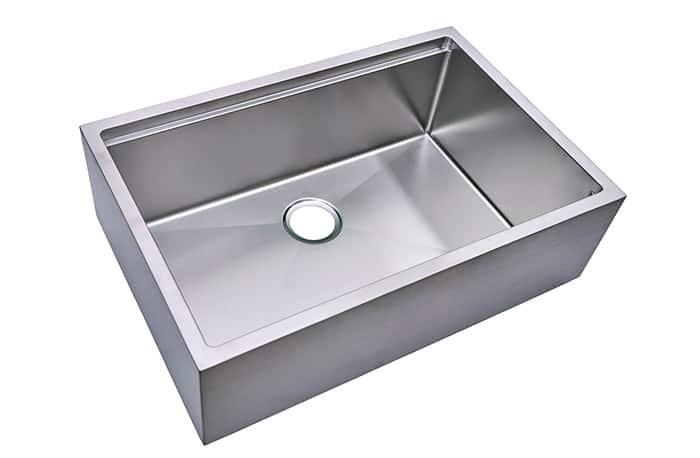 This sink features a clever design and offers you greater size. This sink is sure to be the most noticeable feature of your kitchen.
This Bailey's product consists of 304-grade metal and is 16 gauge thick. Also, to reduce sound, the sink is coupled with insulation to reduce disturbance. It also comes with specific accessories such as a basket, a cutting board and a colander.
SCHOCK Sink Green
SCHOCK came through with another amazing product. The Sink Green has proved yet another time how the company is committed to the green initiative. The company's will to be sustainable has yielded this product which aligns with the company's statement to look forward to a 'future with a future'.
SCHOCK has managed to manufacture a sink material which is ninety-nine per cent renewable.
Nantucket Sinks Plymouth Collection
A new apron sink has been added to the extensive Granite Composite sink line pf Nantucket Sinks.
The sink comes in two sizes: the 33 inches and the 30 inches. It also comes with a wood-cutting board along with some other accessories.
The company hopes to offer the workstation in grey and brown and also in white and black.
Fotile 3-in-1 In-Sink Dishwasher
Today, most of the younger generation lives in small-spaces. Usually, apartments are the most popular choice for young adults. Because of this, the manufacturers receive a lot of requests to reduce sizes of the sinks.
A good solution to the space problem is the 3-in-1 sink by Fotile. This stainless steel sink is extremely efficient and contains a dishwasher, sink and cleaner. These can be fixed into a countertop in the space required by a double sink.
Around 1.6 gallons of water is consumed in the cleaning and drying of dishes by the dishwasher. There are different modes available depending upon the intensity.
The cleaning apparatus uses ultrasound technology to remove residues and dirt from the surface of the sink. It is a great product to sell.
Conclusion
Being aware of the market is extremely important in any business.
You can go for these in-trend options when choosing of what to sell.
I hope this article was of help in your decision.
Good luck!