The kitchen is the most important part of the home. It is a center of activity. Workstation sinks are the current trend in kitchen sinks. What makes workstation sinks unique is their functionality. They are ideal for all kitchen spaces, from large to small. 
Are you looking for a sink that would help you maximize kitchen space? A sink that would make organizing the kitchen easier? A Workstation sink does this and much more.
Accessories usually clutter up the kitchen space. These accessories include drying racks, colander, cutting board, and bottom grids. Workstation sinks come with these accessories meaning you use less space than normal.
What is a Workstation Sink?
Workstation sinks are the leading design of kitchen wares presently. It is a sink design that doesn't just come alone but with other accessories. Also known as the ledger sink, it comes with a ledge, built in to provide room for accessories like colander, cutting boards and drain mats.
If you wish to declutter the kitchen would make the workstation sink a priority. This is because it enables you achieve harmony, giving a central design to the kitchen.
What are the benefits of the Workstation sink?
A Workstation sink would be an amazing addition to your kitchen space. You could get many benefits from using a workstation sink. Here are a few of them;
1. Increased Workspace
Does your kitchen feel cramped because of all the sink accessories on the countertop? We all know how valuable kitchen space is to ensuring a kitchen's organization. A workstation sink helps you increase kitchen space by;
· Turning your sink into more countertop with its cutting board accessory. Thereby providing more space for you to use as a countertop.
· Providing an inclusive drying rack. This frees up the space where you would mount a conventional drying rack.
· Ensuring your dirty dishes can stay in the sink while still allowing water to drain. It achieves this with the aid of its bottom grid accessory.
2. Improves the sanitary conditions of the kitchen
A disorganized sink gives the kitchen an unwholesome appearance. Food preparation occurs in the kitchen. We cannot overemphasize the need for a neat kitchen. Families are switching to Workstation sinks. This is because of the organization it enforces in the kitchen.
Workstation sinks offer you the privacy you do not get while using other sinks. The accessories could serve as a cover for the sink. This attribute comes in handy when you have dirty dishes on the sink and you want to hide them from visitors.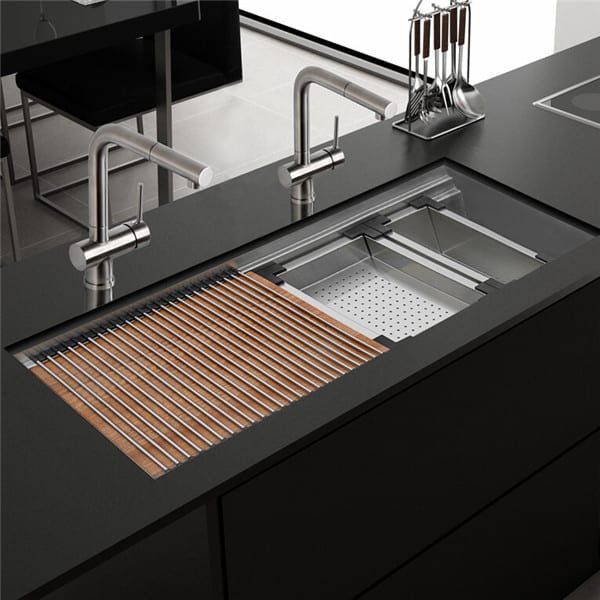 Are you a fan of doing kitchen work like food preparation and washing dishes at the same time? The workstation sink is perfect for you.
With this sink you could thaw frozen meat, washing vegetables and dishes at the same time. The beauty of this sink is that all these processes can happen at the same time. They do this without interfering with each other.
3. Makes Cleanup Easier
In conventional sinks, most kitchen activities take place on the countertop. This increases your workload because you have to clean it up later. But with a workstation sink, you could carry out more activities over the sink. This reduces your clean up job.
4. Protects your countertop
Some food items or fruits like Lemon and vinegar are acidic. Chopping lemon on a cutting board on the countertop increases its exposure to this acid.
This makes a workstation sink a better choice. With this sink, you cut all your veggies and prepare your food items over the sink instead of the countertop.
5. Improves Sink and Kitchen Hygiene
Workstation sink improves kitchen hygiene. You can process food items in different compartments. This reduces the risk of cross-contamination. The accessory on the sink ensures that when food items slip, they slip into the sink.
Also, you can process and wash food items over the sink. This reduces physical contact with food items.
Why are Workstation Sinks Popular?
Workstation sinks have become popular in homes because of the beauty it adds to the kitchen. Another reason for the sink's rise in popularity is its wide range of functions. Other reasons why workstation sinks are popular include;
1. Workstation sinks accommodate all the mounting options of conventional sinks
The mounting options include;
· Undermount
In this form of mounting, you mount the sink from underneath the countertop. This type of installation is common with solid surface countertops. This design makes for a seamless flow from the countertop down to the sink.
· Drop-In
Mounting the sink using this method involves cutting a hole in the countertop. You cut the hole in a way that when you drop a sink with rims into it, it holds up.
· Apron Front or Farmhouse
In this method of mounting, the sink comes with an apron that sits over the front of the cabinet. Apron front protects your cabinet.
2. There are two Basin types
· Single Basin: Looking for a sink with one large space with no dividers? Single Basin workstation is for you. With this large basin, you could use large pots and pans without stress.
· Double Basin: This comes with two Basins. The Basins could be equal or unequal. Most people like the double basin sink because of its efficiency in doing dishes.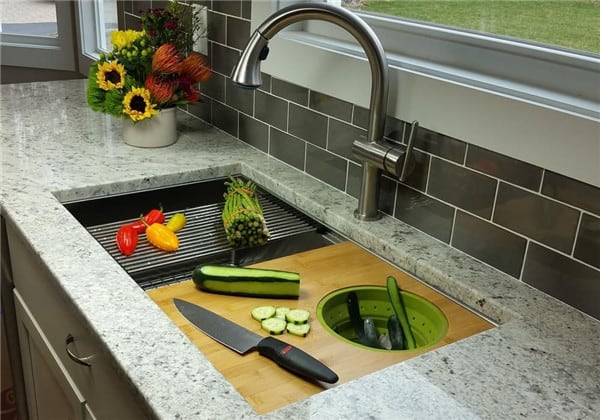 What's the best Workstation Sink?
Your kitchen needs and decoration determine the best workstation sink for you. Proper research is necessary before you buy this sink. There are different types of workstation sink. Without proper research, you might end up buying the wrong sink for your kitchen.
Some factors to consider before buying a workstation sink includes;
Sink Material
Your kitchen decoration plays a huge role in the sink material you choose. There are three main materials used for the production of workstation sinks;
· Stainless steel
· Fireclay
· Granite composite
Stainless steel
If you are looking for a shiny piece of sink that is durable, then a stainless steel sink is for you. Stainless steel is one of the materials used for making sinks. The sink is common today because of its cost-effectiveness.
One drawback of this material is its tendency to rust when exposed to the wet conditions of the kitchen. Scratches are also visible on its surface. It lasts longer when managed well. Proper management involves wiping down after use.
Fireclay
This is a good material for your workstation sink because it is rust-resistant. It is shiny and durable. Sinks made from fireclay material scratch and chip easy. This means that as the sink ages, it loses its beauty.
Granite Composite sink
Made from a combination of granite and resin, this sink is the epitome of durability. Granite composite sinks keep their beauty over a long period of them. They are dent, chip, and scratch-resistant. Granite composite sinks are also resistant to high levels of heat.
You do not like the sound kitchen utensils make when they hit the bottom of the sink? Sinks made from granite dampen sound. This reduces the sound of the impact of utensils on the sink to the least.
Granite composite sinks come in a variety of colors. This ensures you choose a color that suits your kitchen décor. Made from stone, this sink is heavier than sinks made from other materials.
Sink Accessories
Accessories are what make the workstation sink stand out. Without these accessories, it is a conventional sink. After choosing the sink material, you consider the accessories you need in your sink.
While all workstation sinks have accessories, some boast the full set of accessories. Below is the list of accessories and their functions;
· Colander
Also called pasta strainer or kitchen sieve. This accessory has holes. You can use it to strain foods such as pasta. You could also use it to rinse vegetables and fruits.
Its perforated nature ensures that liquid drains out while leaving the solids inside. The colander comes in different designs. But they all perform the same basic function of straining food items.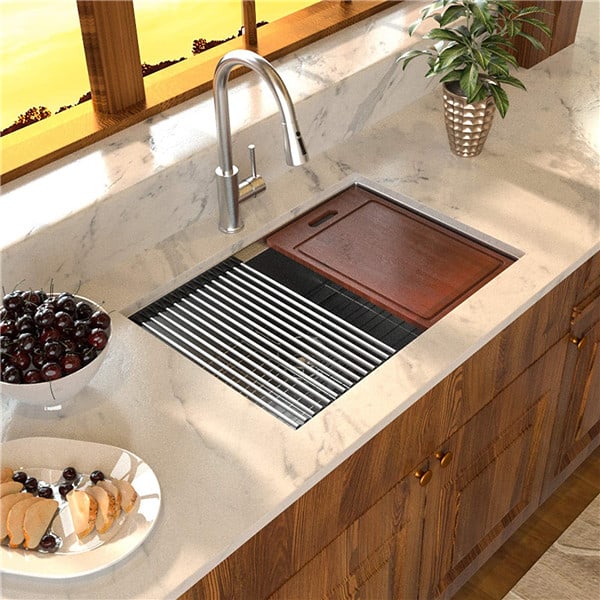 · Cutting board
Also called chopping board. You could cut or slice your food items on this protective surface. Wood, plastic, or cork are the materials used for making this accessory.
In a workstation sink, the cutting board also serves to provide more countertop space. You could also use this accessory to block off the basin of your sink from view. The downside to using cutting boards is that it dulls the sharp edge of your knife over prolonged use.
· Sink grids
Also called basin racks. You place this accessory inside the sink basin. What this accessory does is buffer the sound pots and pans make when they hit the bottom of the sink. It serves as a drainer too. 
It protects the surface of the sink from scratching and chipping. These happen when kitchenware like dishes and pots make contact with the sink surface. With sink grids, your sink retains its beauty for longer.
· Drying racks
As the name implies, this accessory's use is as a surface for drying kitchenware. This is a multifunctional accessory.
You can use its surface to wash, produce and prepare food. You could also place your spoon on it when making food. You can leave your washcloths and sponges on this rack to dry out.
The new trend in drying racks is the roll-up rack. You can roll up this rack after use. This means you do not need extra storage space for it.
Irrespective of the sink material, all these accessories are important. The best workstation sink should have these or ledges for their easy attachment.
Summary
Nothing endears a customer to a kitchen sink like the prospect of space management. Hence, one of the most selling sinks on the market is the workstation sink. They come in various materials and styles.
Workstation sinks give you the ability to carry out most functions in your kitchen without sacrificing your space. It comes with helpful accessories like the colander, drying rack, and grids all compact.