Low-divide sinks are a great style of sink for many reasons. These are very practical sink designs that work really well for kitchen purposes but can also be ideal in workspaces or shops. This is almost like having access to two sinks at once, and this combined sink design is very practical and offers great cost savings.
If you have been shopping for this style of sink, you might have more questions about how to shop for the right version of this sink. This is a new sink style, and it has changed how people shop for sink designs. Many homeowners demand these sinks because they are so effective at what they do.
If you are ready to learn more about the low-divide kitchen sink and what you need to know before buying, you need to keep reading.
What is a Low-Divide Kitchen Sink?
A low-divide kitchen sink is not a single-basin sink. This is a sink with two basins that are the same size. The sink is divided down the middle so that you have two complete workspaces to use for various purposes. This is a very practical sink design that works perfectly in kitchens and workspaces of all kinds.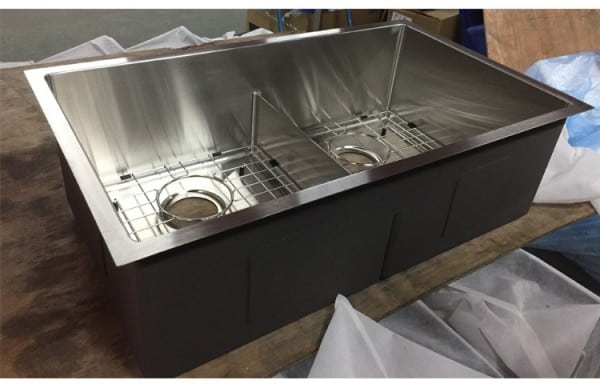 Benefits of a Low-Divide Kitchen Sink
The low-divide sink is made to be very useful for a variety of tasks. The low divide does not block the use of the water sprayer, and it allows you to easily pass items from one side of the sink to the other. You can use this sink for different needs without adjusting your cleaning or cooking process.
This sinks style is often far superior to a single pan sink with a sideboard or a drain board. Many companies have made sinks with sideboard areas that can be used for all kinds of tasks. Still, they took a long time to realize that they needed to make a sink that could allow for washing dishes and rinsing them or soaking items and washing other items in the sink pan next door.
Low-Divide Sink Styles
A few sink styles are so versatile, and you will benefit from having two sinks instead of one when you use this style for the kitchen or other locations. The second basin will remove the dish-drying location traditionally included in larger sinks. Still, most people do not miss it because the other pan of the sink offers so much usable working space.
The low divide in the center of the sink is ideal as well because it keeps you from having to dodge the center of the sink while you are working. You will not have to be fearful of breaking plates and glasses or other items when passing them under the water at the faucet, and you will not have to feel like you have to work around the center of the sink as a space that cannot be utilized.
Low-Divide Sink Functionality
The hand-held sprayer sink design that is so common these days makes this basin arrangement ideal as well. You can easily negotiate all of the spaces of the sink for cleaning and cooking needs, and you will have no trouble cleaning the sink itself, either. The concern that you might not be able to pass large bowls, plates, or dishes over the center of the sink is not a concern with a low-divide sink.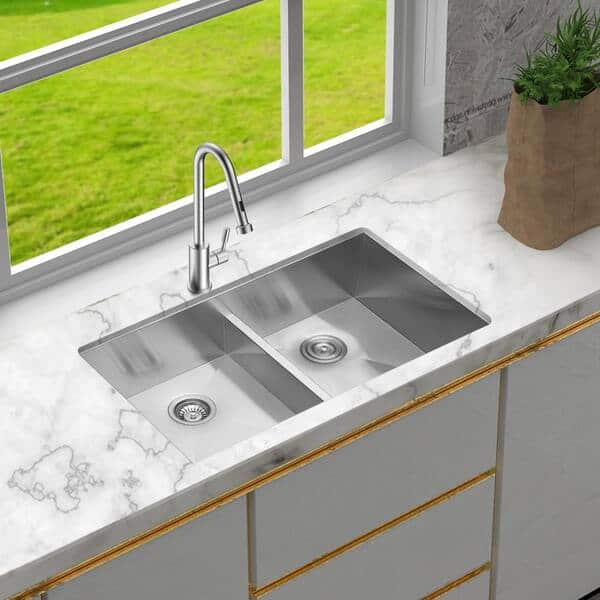 In some cases, the low-divide sink is much more user-friendly than a large single-pan sink because you will be able to keep items separated. For those without a dishwasher, this is the right solution to ensure that you can clean and rinse dishes in the same sink without having to deal with stacks of dirty items all over your counters. The sink pans are ideally sized in this sink model to allow for all the various kitchen work you need to get done, along with a low divider that does not impede functionality.
Chica Dragon-A reliable Manufacturer of Low-Divide Sinks
Chica Dragon is the leading provider of many specialized and well-crafted sink designs. Between excellent customer service and well-made sinks that ship reliably to your location, there is so much to love about working with Chica Dragon for your low-divide sink order. Not many manufacturers make this style of sink yet, but you can get the most affordable and high-quality low-divide sinks from Chica Dragon right away.
If you have been looking for sinks that offer the benefits of lots of working space without giving up sink pan room and depth, the low-divide sink is right for your needs. Chica Dragon can help you discover more about this style of sink and pair you up with the right low-divide sink design for your unique needs. You will have a great experience when you order from Chica Dragon, no matter what kind of sink products you have been looking for.
Low-Divide Stainless Steel Sinks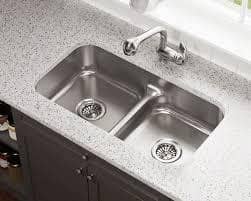 This style of sink can be made of stainless steel, making it a strong and durable sink. These stainless steel sinks are very easy to install as well, and they offer superior sound deadening compared to other sink materials. These sinks ship really well as well, which is very helpful when ordering a large lot of sinks. Stainless steel is the classic, go-to sink for most kitchen needs, and you cannot go wrong with this style of sink made in stainless steel.
Low-Divide Granite Composite Sinks
Granite composite sinks are also really durable, and they can withstand kitchen use and other more workmanlike tasks. These sinks can come in various colors as well, and they are light enough that they are easy to install. Granite composite is growing in popularity, and its durability and unique look make it a close second in popularity to stainless steel sink styles.