Stainless steel is a smart choice for kitchen sinks because it allows quick cleanup and has a great professional look. But once you've addressed the key design issues – single or double bowl, undermount or overmount – you'll want to make a buying decision based on other, less obvious factors that affect quality and value.
This article will cover what you need to know before purchasing a stainless steel kitchen sink.
About stainless steel sinks
Thanks to its range of excellent qualities, a stainless steel kitchen sink is an ideal choice for almost any kitchen. You will be hard-pressed to find a kitchen sink that is as timeless as a stainless steel sink, which can complement kitchen design very well.
Stainless steel sinks are also known for their sturdiness and durability. When properly maintained, stainless steel kitchens are expected to last more than 30 years – a testament to their longevity and satisfactory performance!
Before buying a stainless steel kitchen sink, you need to consider some aspects to make your purchase worthwhile.
This includes:
Stainless Steel Grade
Gauge (thickness of the steel)
Insulation and coatings
Finished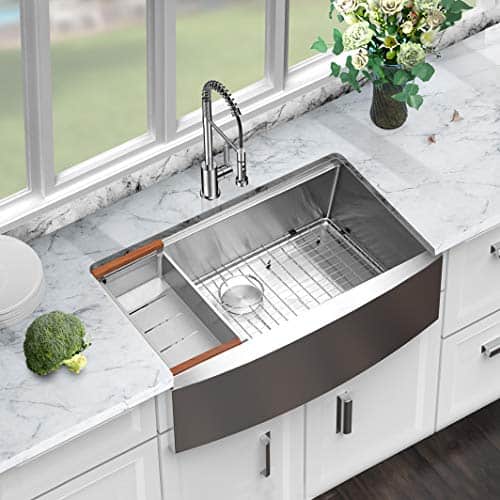 Some other considerations include the number of sinks you want and how you want it installed, although these are not as important as the factors listed above.
It will also be helpful to know how to maintain and care for your stainless steel stinker properly. Proper maintenance is essential to ensure that your sink lasts.
How to choose a good-quality stainless steel sink
Stainless steel is usually steel that is blended with other elements to improve its properties. Think of stainless steel is mixed with the best other materials to make the perfect end product.
The two most important materials to check before buying a sink are chromium and nickel. These two materials enhance the performance of stainless steel, making it durable and corrosion-resistant.
The grade of the stainless steel
You will usually see the "18/8" label on your local stainless steel sink. This ratio indicates the amount of chromium and nickel contained in the steel. For an 18/8 ratio, it means the stainless steel contains 18 percent chromium and 8 percent nickel.
As a general rule of thumb, the higher the percentage of these materials, the higher the quality of your stainless steel sink.
'Grade' is another thing to look for when buying a stainless steel sink. Grade 304 is considered to be the best grade of stainless steel sinks. This grade means that the steel is 18/8 stainless steel and consists of at least 50% iron.
By understanding these characteristics of stainless steel, you will be able to distinguish a quality sink from a lesser sink. It can also save you a lot of money when comparing multiple brands of sinks.
Gauge (thickness of the material)
The "gauge" refers to the thickness of the stainless steel metal of the sink. Do not be confused; the smaller the gauge number, the thicker it is, and vice versa. In this case, always remember that when measuring gauges for sinks, less means more.
Gauges for materials range from 16 to 22 gauges, with the 16 gauge being the thickest. While some people think the thickness of a sink doesn't matter, a thicker sink means it has more sound absorption.
It is much quieter than thinner sinks because it "absorbs" the sound of water flowing in the sink or the sound from the garbage disposal.
As a rule of thumb, quality stainless steel sinks range in size from 16 to 18.
Insulation and coatings
Stainless steel sinks are usually covered with sound insulation layers or coating to help reduce noise. The coating also helps reduce condensation buildup at the bottom of the sink. Having a coating means you won't have a moisture problem under your sink; if there is moisture, it will mold.
It is essential to know that your sink comes with any insulation or coating or not.
These are usually an add-on when you buy a stainless steel sink, but it's worth it if you don't want to be bothered by the noisy sound of a sink.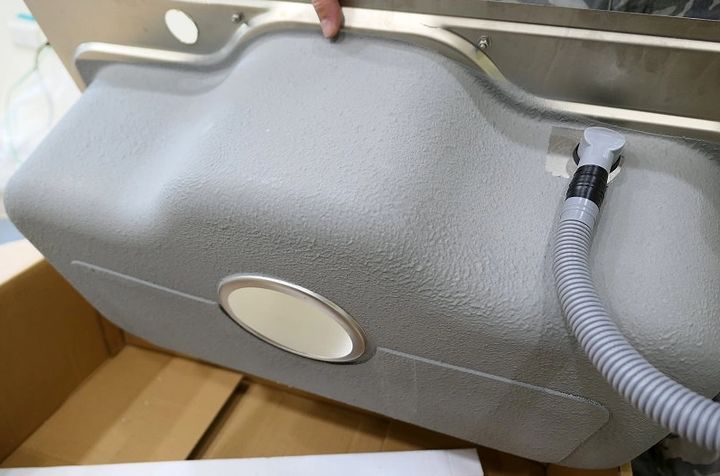 Sink finish
The finish is the surface of the stainless steel material. Mirror finishes have a polished appearance and a smooth feel. You can also choose a surface that looks "brushed" rather than smooth with a matte finish.
In addition to the polished mirror finish, you can also notice the direction of the grain of the stainless steel sink produced by the finishing process.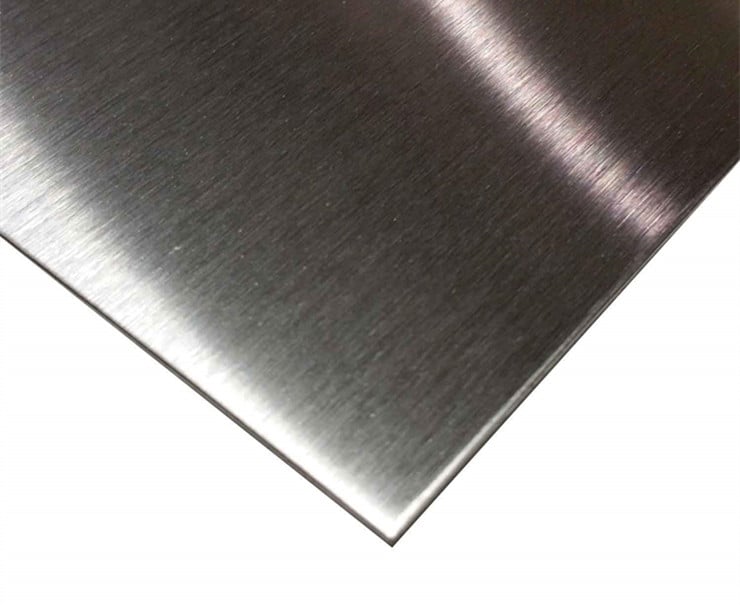 Advantages of stainless steel sinks
Inexpensive and affordable for homeowners and builders.
High-end stainless steel options will cost more; however, most stainless steel sinks are moderately priced and as high quality as all other sinks on the market – if not better. Builders can also buy stainless steel sinks in bulk to increase profit margins.
Perfect for homeowners who want an inexpensive but durable sink.
Stainless steel sinks with thick gauges make from zero to very little noise when running water or preparing food. It's also very durable and perfect for kitchen sinks because it won't crack or chip.
Lightweight and portable.
Compared to other sink materials, stainless steel is relatively light. For example, a large 34-inch wide sink made of stainless steel is easy to move around; doing the same task with a stone sink is very difficult.
Easy to maintain
Stainless steel surfaces are effortless to maintain and care for. All you need is an ordinary household cleaner and a cloth to clean and polish your stainless steel sink.
Rust-resistant
Due to the corrosion resistance of stainless steel, you do not need to worry about the rust problem when buying a kitchen sink.
Lasts a long time – If you're looking for a kitchen sink that lasts for 20-30 years, a stainless steel sink can meet your needs easily. And with proper care, it'll last even longer!
How to maintain a stainless steel kitchen sink?
Knowing how to care for your kitchen sink will help you keep its original shiny look and extend its life. As a bonus, you'll also save a lot of money in the process!
Before you do anything, it's best to consult the manufacturer's cleaning and maintenance recommendations. You don't want to do anything that will void the manufacturer's warranty or after-sales service policy.
Fortunately, warranty policies are uniform among manufacturers, so you shouldn't pay too much attention to them.
When cleaning your stainless steel sink, make sure you avoid using aggressive or acidic cleaners and avoid scrubbing the surface too hard. Doing so will prevent scratches or stains from appearing on the surface.

Also, do not use steel wool to scrub the surface of the sink. The small pieces of steel in steel wool will become embedded in the sink's surface and will rust over time. Rust will stain your sink and be difficult to remove – don't do it!
If you must scrub, be sure to wipe with the grain and not against it. Doing so will keep the surface shiny instead of scratching it.
Common house cleaners and detergents contain chlorides that are not good for stainless steel. Fortunately, chlorides are water-soluble. This means that rinsing the sink thoroughly is enough to remove the chlorides from the sink's surface.
The important thing to know is that after a few weeks of use, soap scum may appear on the sink's surface. If you are good with it, then you can ignore it. If not, wipe the stainless steel sink with a cloth daily or weekly to remove water stains and soap scum.
Choosing the best kitchen sinks manufacturer
Over here at Chica Dragon, we pride ourselves in only supplying high-quality materials for your kitchen sinks.
From a high-quality granite composite sink to a grade-304 stainless steel kitchen sink, we've got your kitchen design needs covered.
Our products come with a 5-year to 10-year warranty, and we provide OEM&ODM service. Our products are also extensively tested for quality according to ISO9001 standards.
FILL IN THIS FORM TO REQUEST A QUICK QUOTE FROM CHICA
Further information
To learn more about kitchen sinks, head over to our blog, where we have guides and how-tos for choosing the best kitchen sinks.
To get in touch with us, email us for any inquiries.