The handmade sink is a top choice among the stainless steel sink. It gets the name from forming the sink by hand and welding the corners. This process ends up in tight radius corners and straight lines throughout the basin. The finished product might be a commercial or industrial appearance, an enormous departure from the gradual curves of a machine-made sink.
In this article, we'll give an introduction to five different types of handmade sinks.
Workstation Ledge Sink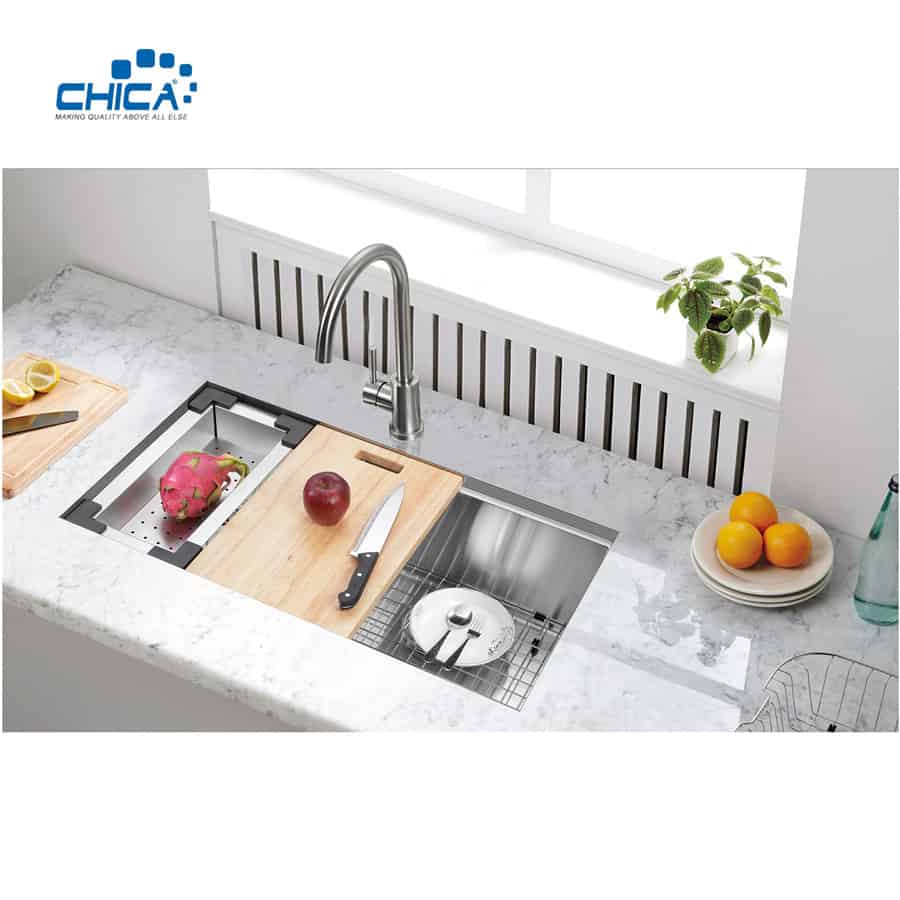 Workstation ledge sink combines fashion with function to create a contemporary look in the kitchen. It's handcrafted from premium 16 gauge 304 stainless steel for durability; the extra-deep basins accommodate large dishes with ease. The four corners are more convenient to wash the dirt—the clean lines and Undermount design complement any décor, from traditional to transitional to modern.
All chica handmade sinks are equipped with top-level soundproofing, including thick rubber dampening pads. Each sink is additionally treated with protective pads to reduced the dampening sound.
The corrosion-resistant surface is further protected against rust and oxidation by the satin-finished. This stylish workstation sink provides a lifetime of functionality.
Nano Technology handmade sink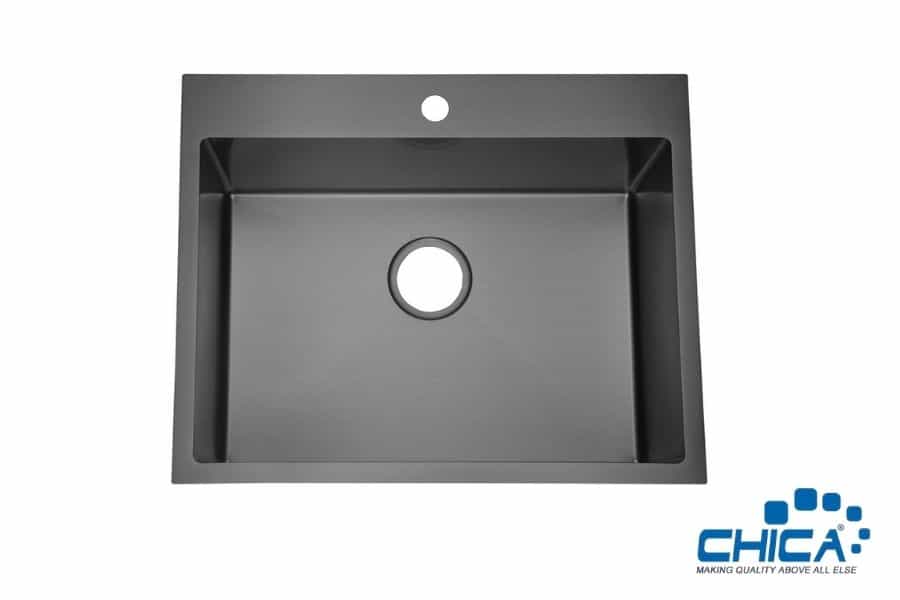 Nano Technology creates a protective coating that offers the sink a more water-resistant, bacteria-resistant, dense structure, and straightforward to scrub. With Nano technology, sink surfaces last for a lifetime.
Oil-proof technology is repellent to water and allows easy cleaning and maintenance with just a soft cloth. It helps prevents germs from lingering and creates a healthy lifestyle.
Rust-resistant with a lavish finish makes it easy to scrub and can not dull from daily use. With the nano-black stainless-steel finish, it repels water and dirt. It assures long-lasting durability, performance, and lustrous beauty.
Handmade Farmhouse Sink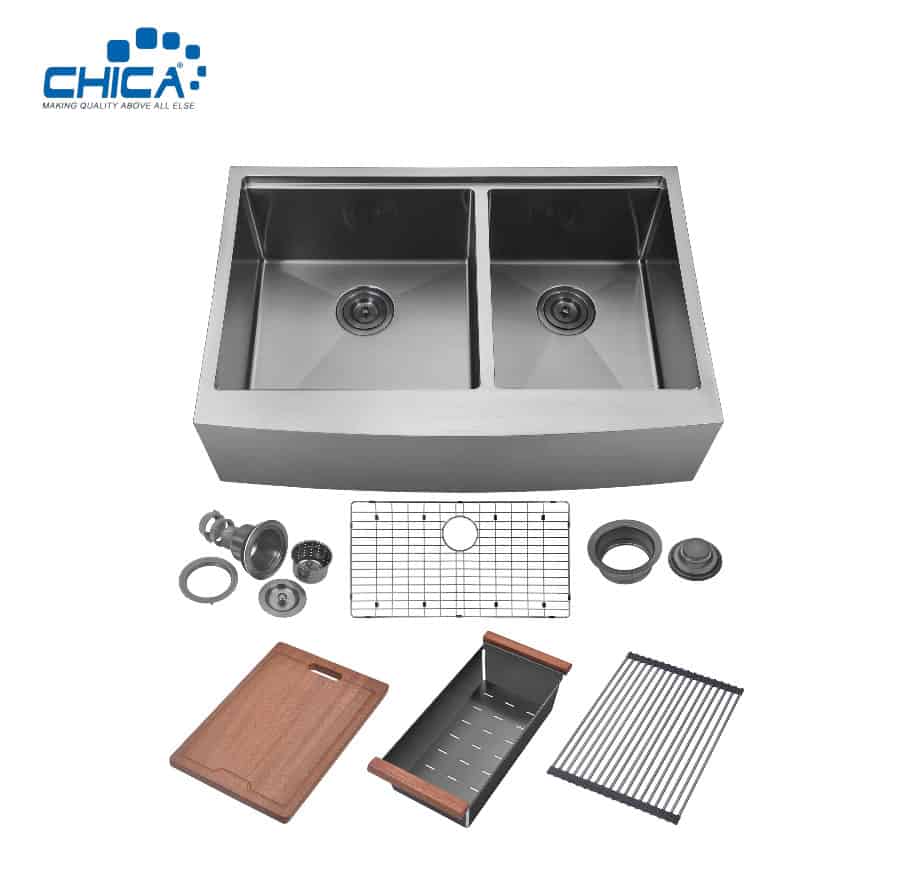 This beautifully curved handmade space-saving farmhouse handmade sink is sure to catch the eye of your guest. The 30 In. apron farmhouse undermount sink encompasses a whole basin with the power to support the included adjustable bottom grid and chopping board utilizing the double ledge that runs together with the sink.
This farmhouse sink is created of 304-grade stainless steel, and therefore the flawless and smooth texture makes it easy to wash the surface. The adjustable bottom grid is ideal for keeping all washed utensils or simply holding extra prepping items.
The drain on this model is within the top center of the basin. The drain contains a size of 3.5 inches and comes with strainers to assist protect from blockage and other items falling into the drain. A soundproofing pad is installed on the bottom of the sink to keep vibrations and loud sounds cornered for a better experience. This is an excellent choice for a new renovation project or simply upgrading to a more stylish sink.
Undermount Sink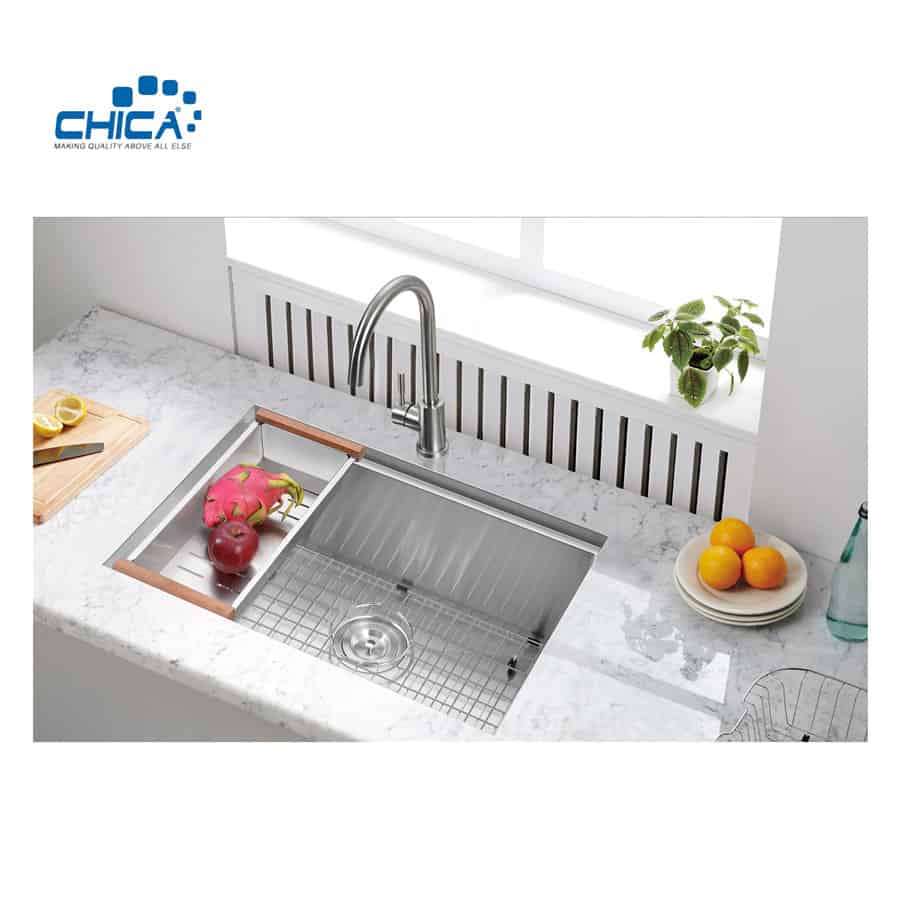 This undermount handmade sink is constructed with Premium 16-Gauge thick grade 304 stainless steel for durability, performance, and aesthetics. Handcrafted brushed satin finish to prevent dents and scratches for long-lasting use.
Undermount installation provides you with more counter space, creates a clean, seamless, and modern appearance between the sink and countertop, and easily cleans curved corners.
Soundproofing rubbers have been added to the bottom of all our stainless steel sink models to reduce the faint sound of running water. As an added protective layer and to prevent moisture accumulation, and anti-condensation spray undercoating is additionally applied to the exterior of the sink.
Large Single Bowl Sink
A large single bowl sink makes the kitchen look more generous and looks clean and tidy.
This premium quality sink comes optionally with various accessories, including cutting boards and drains racks, to make it super helpful. 16 or 18 gauge steel is available, and sound deadening is add surrounding the basin, so you won't have to listen to the dull thud of water on steel that lesser quality sinks can have. They're roomier for washing large pots and pans.
Conclusion
A handmade stainless-steel sink might be a continuously popular choice for purchasers. Knowing which sort is hot is crucial to your business.
I hope the introduction of the above 5 hot-selling handmade sinks is useful to you. Good luck!