What are the best materials for the kitchen sink? What shapes are there to choose from? Where is it best to place the sink? You have all the answers here.
1.STAINLESS STEEL SINK
The first thing to consider when choosing a sink is the style. Stain steel is the most widely used material in its manufacture due to its excellent performance in resistance, durability, hygiene, and ease of cleaning. They are available in polished or matte finishes, both for installation under the countertop and flush. The most spectacular are those that form a continuous surface with the workbench, or trough type, like this one.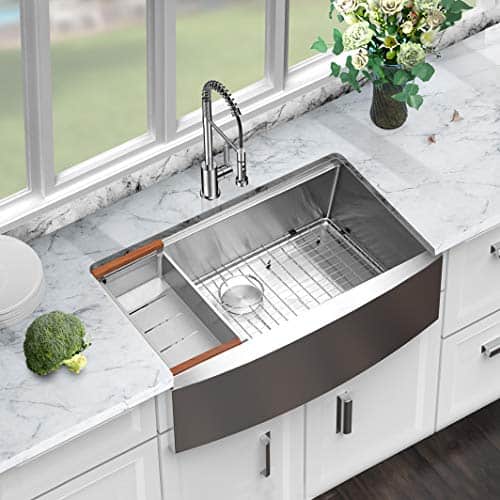 2.GRANITE COMPOSITE SINK
They are very convenient because they do not have to be constantly cleaned to remove limescale residues. In addition, they offer the possibility of being made in the same countertop, eliminating annoying joints: Granite composite is a very resistant component composed of 80% natural granite, combined with an acrylic resin that gives it a texture similar to stone but silky to the touch. It is available in a lot of different colors.
3.PORCELAIN SINKS
English porcelain sinks are a very fashionable classic. They are compact pieces whose exposed front provides an elegant look to the kitchen, both to those with a current and urban aesthetic and the most classic ones.
4.NATURAL STONE SINKS
The most common models in this category are made of granite or marble in one piece. Its hardness is extraordinary, its beauty is indisputable, but special care must be taken to keep it well; since it is a natural material, it can wear out with use.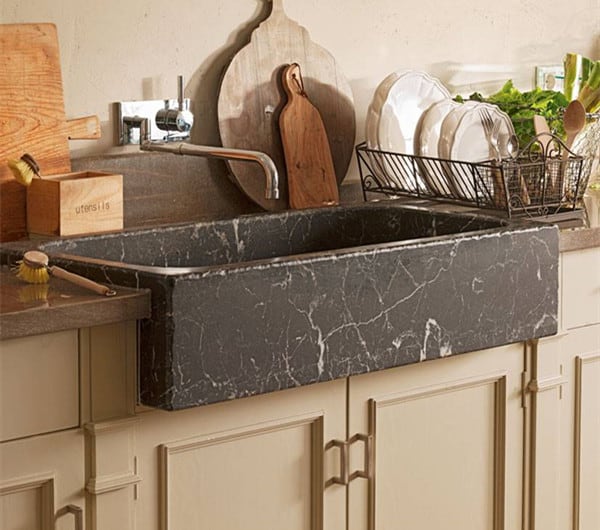 5.ARTIFICIAL MARBLE
Like the synthetic models, made from resins with mineral fillers such as quartz, marble sinks can be manufactured in one piece next to the countertop, without joints. This type of piece can also be installed on the countertop, which we will see later on. Its veins are unique.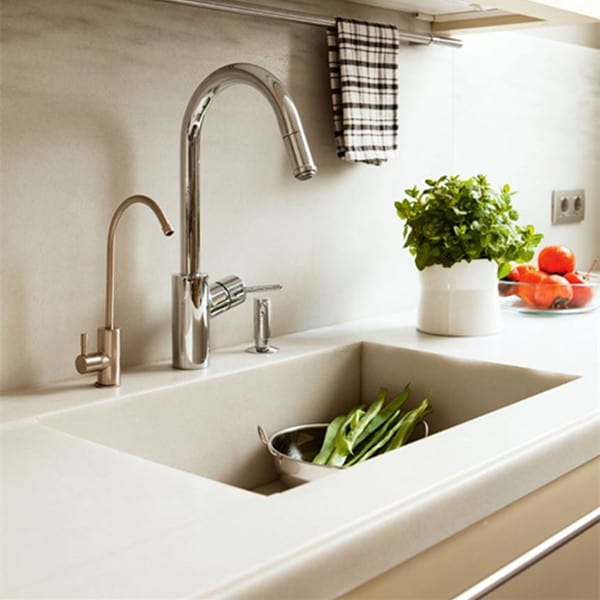 6.SINGLE BOWL OR DOUBLE BOWL?
Although the double-bowls are still the most common, the choice should be made according to their use and the space available, as they come in many different sizes and shapes. The single-bowl sink is suitable for small kitchens with a dishwasher.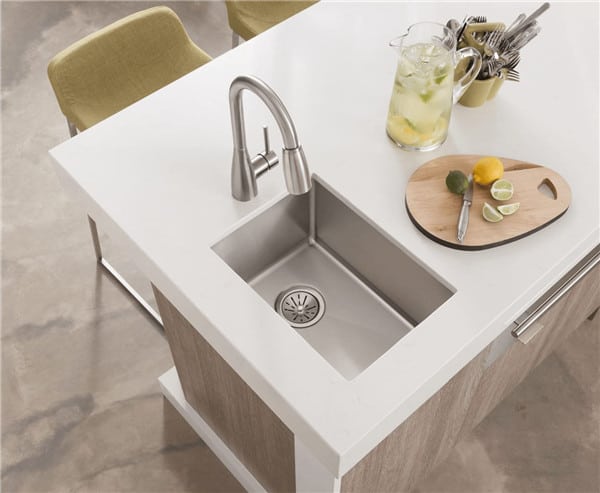 7.SINGLE ROUND STAINLESS STEEL SINK
It can be the solution for tiny kitchens. Its circular shape makes good use of the surface without taking up much space. If you combine it with a faucet with an extendable spout, you will extend its possibilities.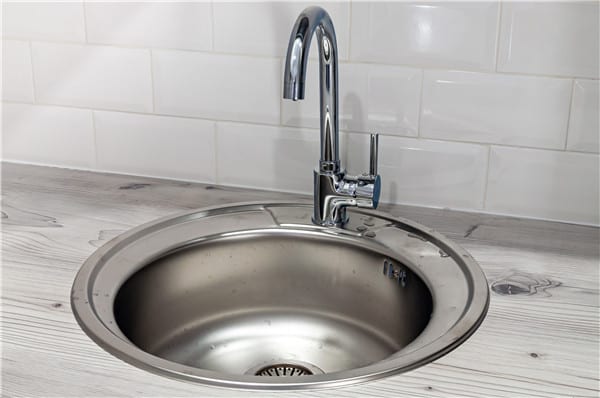 8.ONE AND A HALF BOWL SINK
In homes with dishwashers, where the sink capacity is not so important, you can opt for a one-and-a-half-bowl model. One conventional basin combined with a smaller one, it's often equipped with accessories such as draining boards or cutting boards. Those accessories fit as a lid to be used as a work surface.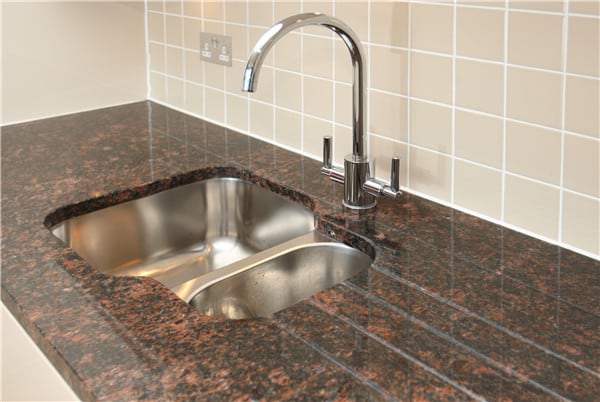 9.DOUBLE-BASIN SINK
It is the most popular option due to its functionality. Ideal for standard 90 cm deep furniture, they measure approximately 75 cm long x 40 cm wide. Its design allows washing in one basin and rinsing in the other.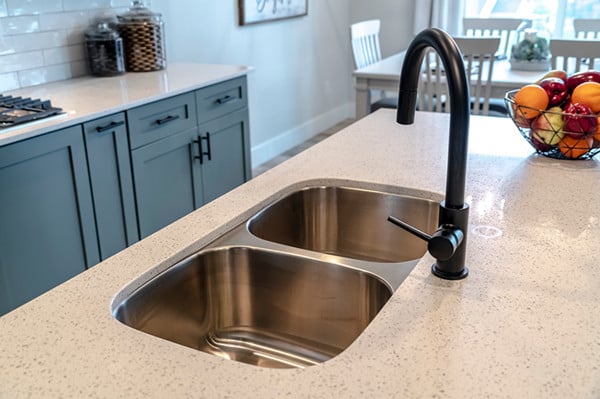 10.VESSEL SINK
The first option, which illustrates this granite composite top-mount sink on a wooden countertop, shows the entire body of the sink. This type of placement is recommended when the sink is unique, and you want to highlight it.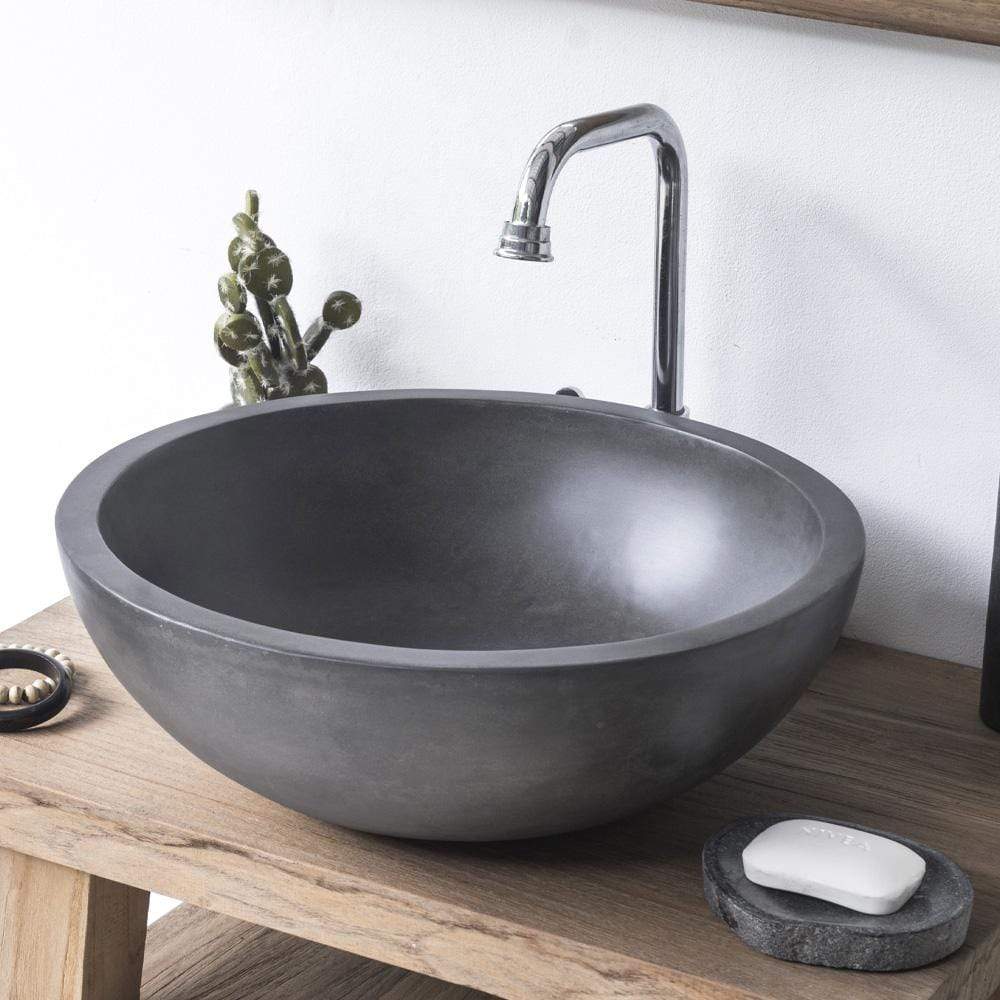 11.FLUSH MOUNTING
This is the most common method and seen in the kitchen – top mounting. The specialist places and fixes the sink in the prepared countertop cutout. Suitable for one-piece stainless steel models such as this one.
12.UNDERMOUNT SINK
In the recessed installation, the sink is mounted without steps underneath the worktop. This type of installation particularly enhances worktops, e.g., made of natural stone.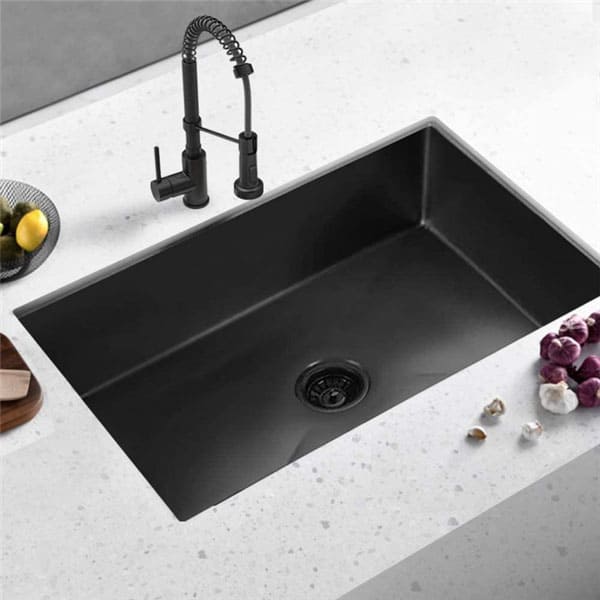 13.ONE PIECE SINK
Finally, the sink units are assembled as a single unit, which avoids cutting a hole in the worktop. Experts recommend leaving at least 40 cm free on each side of the sink to work comfortably.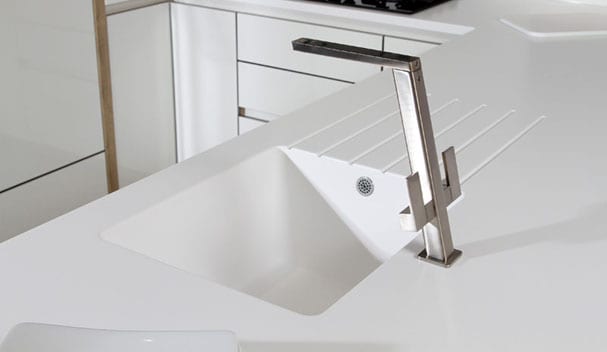 14.WHERE IS IT BEST TO PUT IT?
Indeed, if you have a window, place the water area below to enjoy light and views while working. Of course, it is necessary to foresee the scope of its opening so that the sink's faucet does not obstruct. In small spaces, a sliding window can be the solution. Another option for these cases is pull-down faucets, which can be lowered to sink level when not used.
15.ISLAND SINK
Place the sink where you can draw lines of action to the storage and cooking areas. The more proportionate this imaginary triangle is, the more functional the kitchen will be, which is why more and more people are choosing to place the sink and prep area on a central island or peninsula.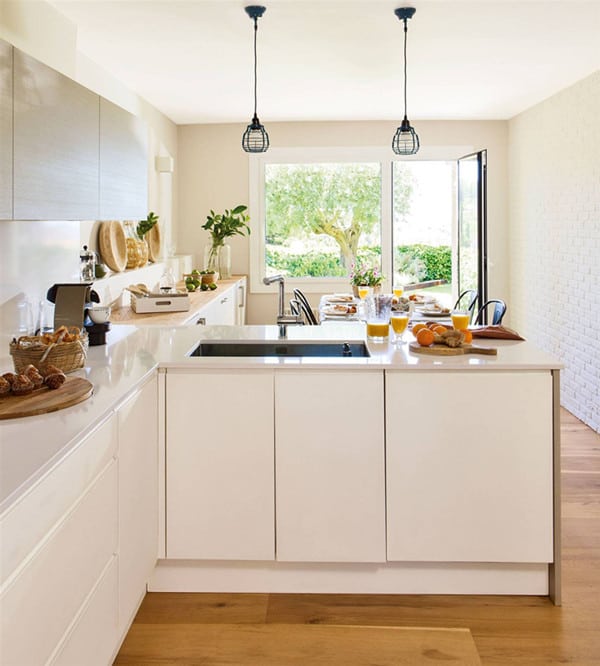 16.TWO DISTINCT WATER ZONES
If you have space to spare, it is really useful. One of them can be used for dishwashing, and the other can function as a support in the food preparation area. The latter is generally arranged in a central position to shorten the displacements. If there is more than one of you when preparing lunch or dinner, you will appreciate it.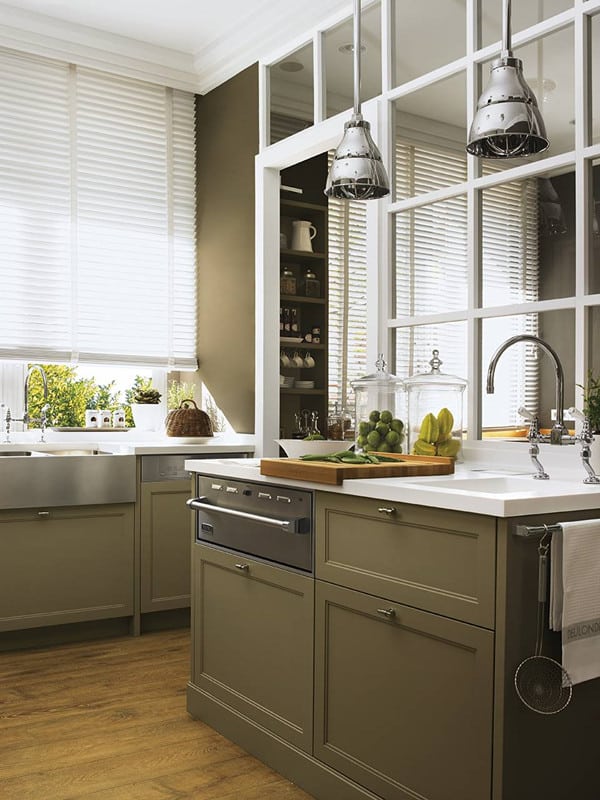 17.USEFUL ACCESSORIES
Bowls and drainers that adapt to the width of the bowl, wooden cutting boards, a built-in dishwashing soap dispenser. You will complement that will make your sink a 100% functional work area.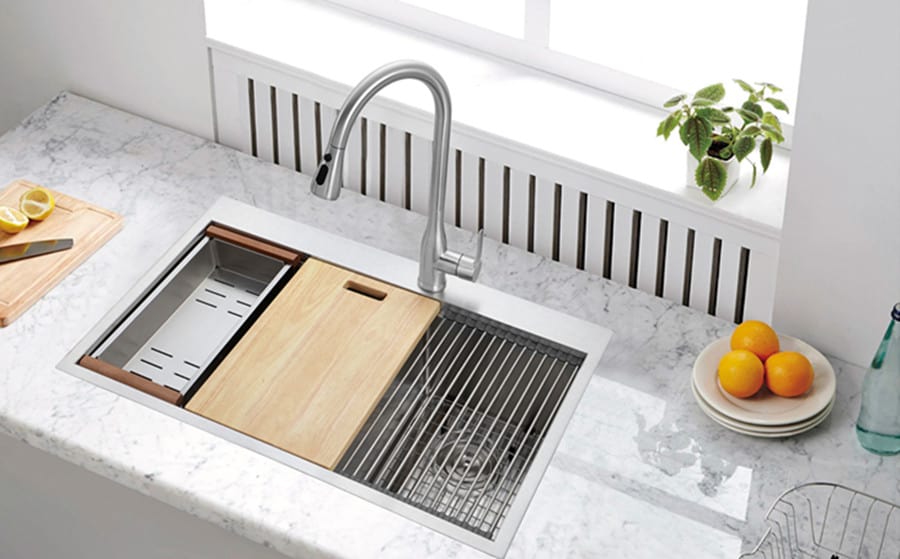 18.CHOOSING THE RIGHT FAUCET
Choosing a faucet will depend on the size of the sink and the use that will be made of it. For small sinks, for example, it is best to choose a faucet with a low spout to avoid splashing. Single-lever models, which can be operated with one finger, and preferably with a pull-out tap, are the most versatile.
The sink is the heart of the kitchen. Over the years, it has undergone significant changes to adapt to daily work needs and different distributions. For this reason, as you have been able to see, the variety in terms of shapes and finishes is very diverse. The sink area is increasingly equipped with more and more utensils that advocate ergonomics and comfort. With one or two bowls, round or square, with or without accessories- the options are various.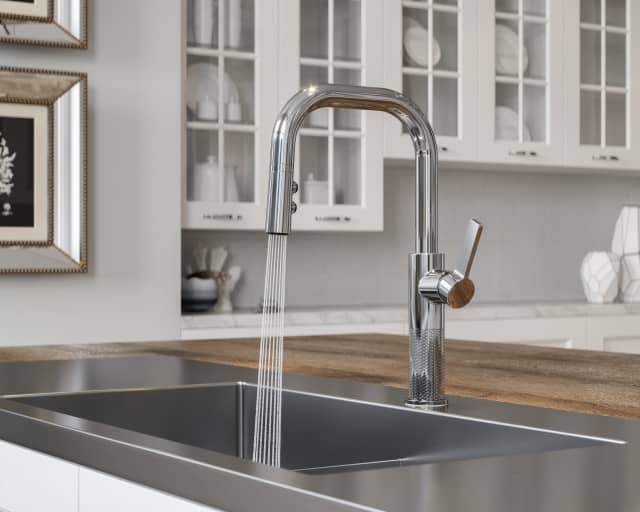 MATERIALS AND COLORS FOR ALL TASTES
The choice of materials for the sink is pervasive. Classic and timeless stainless steel, for example, can be integrated into any kitchen environment like virtually no other material. In general, stainless steel is hygienic, hard-wearing, and convinces with its high gloss. Its only drawback is the limescale stains that occur on its surface. In addition, it is more difficult to maintain and needs to be washed often with a specific product. The advantage is that there are models for all tastes in various sizes and combinations.