Many homeowners look to manufacturers for assistance in sink selection, offering these manufacturers the opportunity to demonstrate their expertise and guide homeowners to the sinks that best complement their countertops. Whether providing homeowners with a solid surface or a stone countertop, it is important to help them choose a quality sink that is not only easy to install but also makes the countertop material "pop" and provides years of consistent performance. In addition to helping to visually stimulate the kitchen, choosing a quality sink helps to eliminate return visits, increase word-of-mouth referrals and ultimately increase profitability. Stainless steel sink is a very popular choice with customers, which is the finishing touch for a stone or solid surface countertop. Stainless steel goes perfectly with any color or material and always seems to be stylish. Since navigating the many sink options can be a daunting task, the following tips provide a helpful guide for manufacturers to help them choose the right sink shape, style and size for each unique installation.
Choosing a reliable supplier/manufacturer is essential.
Durability is critical for countertop installations, as customers want their investment to last for years without having to replace any components. With this in mind, it is important to note that stainless steel as a sink material will not crack, chip or discolor compared to other materials such as enameled cast iron and vitreous china. Quality stainless steel sinks are typically made from 300+ series stainless steel, which offers greater rust resistance and provides a bright, beautiful finish while minimizing corrosion.
Another key factor to choose a quality stainless steel sink is the thickness of the steel. Residential sinks are typically available in 18 to 22 gauge, with the lower the gauge, the thicker the steel and the stronger the sink. Choosing thinner or lower quality stainless steel sinks can affect a homeowner's satisfaction within the first six months, as the finish and sound can produce noticeable defects. To ensure customer satisfaction, 18 or 20 gauge stainless steel sinks are primarily recommended for most applications. Purchase stainless steel sinks from reputable manufacturers who offer quality kitchen sink with the proper thickness and type, as well as consistent material and dimensional integrity, manufacturers can be assured that they are providing superior quality sinks.
Quality customer service is also important.
Since selecting and installing a sink is often the final step in a project, it's important to work with a manufacturer who offers on-time delivery and excellent customer service to ensure a smooth, efficient process without costly delays. By working with a manufacturer that has a variety of rock sinks and readily available, dedicated in-country customer service and local service and support, manufacturers can be confident that the sink will be there when they need it. It's also wise to consider manufacturers who offer long-term warranties to ensure customer satisfaction for years to come.
Undermount or top-mount sink? Which one should I choose?
After selecting the right manufacturer; the manufacturer can help the homeowner choose between undermount sinks and top-mounted sinks. The decision should be based on a countertop material, customer preference and price. Both sink types have their advantages and disadvantages. So it is important that the manufacturer be able to explain the pros and cons of each option to the customer. Provide homeowners with background on each type, such as how undermount or recessed sinks can be installed in the railing below the countertop to create a seamless look. In addition, undermount plaster is easy to clean because debris from the countertop can simply be brushed off the edge of the countertop and into the sink bowl without disturbing the sink countertop. In addition, because undermount installations are permanent, quality is key when choosing a sink, as it usually cannot be removed without damaging the countertop. Top-mount or drop-in sinks is another option explained to customers, which have rolled and finished edges. A major benefit of the inset sink style is that it can often be replaced without removing or potentially damaging the original countertop, making it easier to remodel later. Top-loading sinks are available in a variety of standard sink base sizes, optimizing the existing cutout. In addition, using a soft countertop stone, such as marble, top-mounted sinks can help protect the edge of the countertop. Sharing tips and insights such as these can help build a manufacturer's reputation as an expert and hopefully increase referrals and profitability from repeat customers and add value to the job.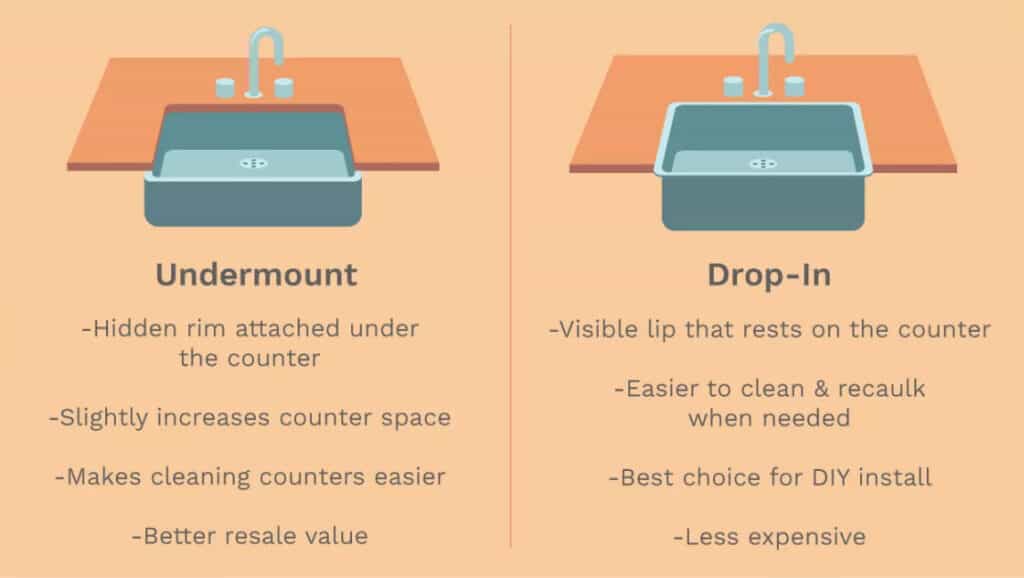 Manufacturers should provide a variety of style, size, and depth.
Like countertops, sinks combine form and function, so manufacturers should guide homeowners in selecting the right style, size and depth for their needs. The first step is to determine the sink's primary use. For example, will the customer use it for meal preparation, dishwashing or as a secondary sink for entertaining? Once this information is available, the manufacturer can help select a single, double or triple bowl sink with the proper size and depth. Double-bowl sinks are the most common sink configuration because they increase efficiency for multiple users in the kitchen. Some double-bowl models feature a second bowl of different sizes or depths that can be specified to the left or right depending on customer preference. The increasingly popular single-bowl sink provides a more spacious work area for cleaning larger pots, pans and cooking plates, while the smaller single bowl can be used as a secondary prep sink for a bar area or kitchen island. Three-bowl models typically have two larger bowls with a smaller bowl in the middle, often used for garbage disposal. Three-bowl sinks offer versatility in the kitchen by providing enough space for multiple people to perform different tasks around the sink. In addition to determining how the sink will be used, the manufacturer should discuss the amount of space it will take up in order to select the ideal model and set customer expectations correctly. Most residential sinks range from 6 to 10 in. deep. The most common depth is 8 inches, but 10 inches. In recent years, depth models have become increasingly popular. The sink depth should be determined by the preferences of homeowners and the function of the sink. Buying from a manufacturer that offers a variety of sink styles, sizes and depths make it quick and easy to find the right model for customers. Consumers should also be aware of stainless steel sinks without straight sidewalls and flat bottoms; these are signature features of sinks designed to protect delicate goblets and china while providing maximum capacity.
A quality kitchen sink should be sound suppression
One feature that should not be overlooked when choosing a sink is sound suppression. Stainless steel sinks are insulated to help reduce noise during use. Most manufacturers offer sinks with different insulation options, such as full undercoating, sound-absorbing pads or both, to ensure a quiet, relaxing experience that will keep customers happy.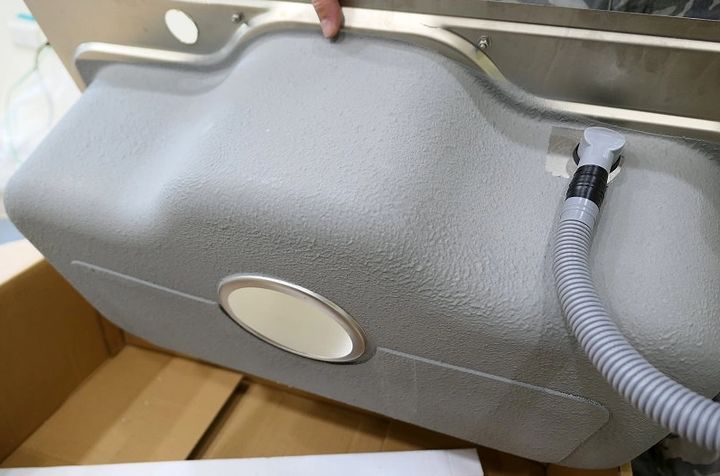 Choosing the right finish of the kitchen sink.
For a long-lasting look, manufacturers should guide homeowners in choosing the right finish. Sinks with a durable satin finish can provide a timeless aesthetic that blends with scratches and any signs of use over time. Mirror or hammered finish sinks, while attractive as kitchen focal points, are only recommended for less active areas, such as the bar or butler's pantry. A proper finish will ensure that the sink maintains its appearance throughout the life of the countertop.
Quality sinks often come with functional accessories.
After a homeowner selects a sink style, another way to make the customer happier and increase profits is to share accessory options. Some manufacturers offer customized accessories for different models. For example, cutting boards, which can be used to prepare foods; bottom grids, which are used to protect sinks and filters. These accessories are designed to complement each model, completing the presentation of the sink and adding to the overall look and feel of the kitchen, while also increasing the profitability of the manufacturer's work through incremental accessories.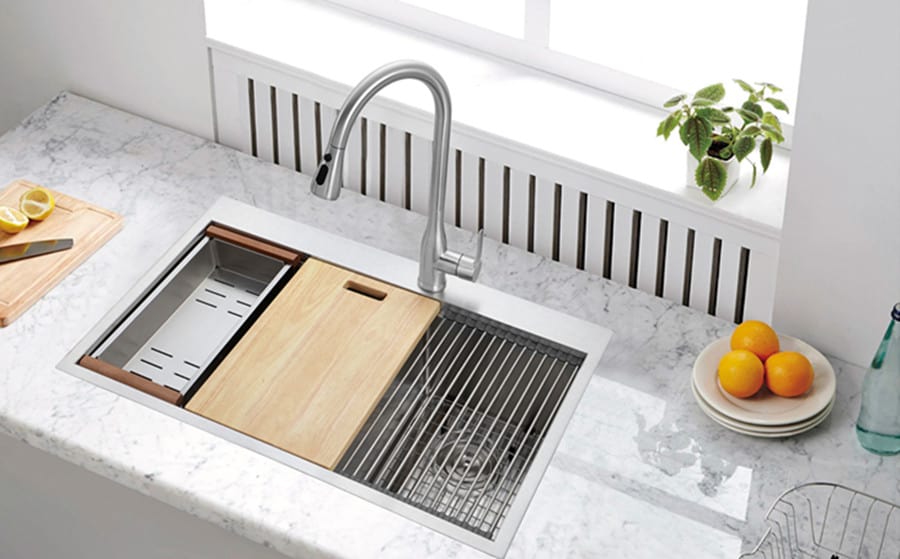 The ease of installation should be taken into consideration.
The manufacturer can complete the project by installing the sink once after the sink and accessories are selected. To simplify installation, many manufacturers provide mounting hardware that comes with a sink for added convenience. Most quality stainless steel sinks include countertop cutting templates and complete installation instructions that help the homeowner or fabricator install the sink quickly and easily, allowing the satisfied homeowner to begin using his or her new kitchen immediately.
How to clean and maintain a stainless steel sink?
Share with the homeowner tips for routine cleaning of the sink. For stainless steel, the best method is to apply a mild dish detergent with a soft sponge or fiber brush, rinse well with water and wipe dry. There are also products on the market specifically for cleaning stainless steel. It is important to note that most soaps, detergents, bleaches and cleaners contain chlorides that may be too corrosive for stainless steel; therefore, the sink should be rinsed thoroughly after cleaning. By sharing tips for proper care and cleaning with customers, manufacturers can avoid recalls and ensure that customers are satisfied with a sink that maintains quality throughout its life cycle. While kitchen sink styles continue to evolve, manufacturers can provide insight to get the right sink. A homeowner's decision to upgrade to a higher quality sink creates an opportunity for manufacturers to provide their customers with the ideal product to meet their needs while generating greater profits.